I'm always up for trying the new restaurants, especially after being  pitched at tease about the new place by a public relations firm. (Actually the firm works for Info New Haven, promoting all area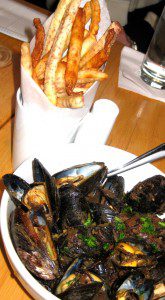 restaurants.)
Red opened recently on Orange Street in the former Foster's, with the same owner (Ming Lau) minus the eponymous chef-partner Dave Foster. It's purportedly a French-Asian bistro. The wine offerings are mainly from California, but we settled on a New Zealand Matua Sauvi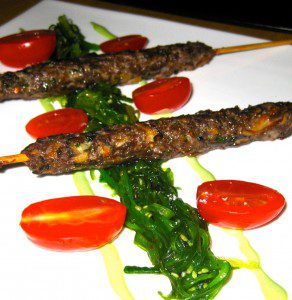 gnon Blanc ($28).
We started with their moules-frites ($12),  Asian-style mussels in a black bean sauce served with taro root french fries. Interesting flavor – but both the mussels and fries needed a tad more seasoning. When asked for some salt and pepper (there was none on the table), the waiter asked whether we'd like some garlic aoili for the dish. Our thought: it should have accompanied the dish.
Next we ordered the "lamb skewer" ($10) – described as lamb, ginger, shitake and nori skewered over seaweed salad with a wasabi mayo. We expected cubes of lamb, and got ground lamb (and not much of it for the price) atop a Japanese seaweed salad. Each tasted fine, but didn't work together.
What did work were the delicate pan-seared sea scallops over sauteed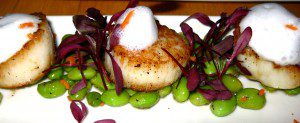 edamame topped with a delicate lime salt foam ($10). I'd return just for those!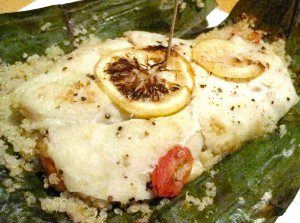 The Baked Swai ($18) arrived looking bare. All that was on the plate was a filled  banana leaf with nothing else as a garnish. Once opened, the  Vietnamese catfish seasoned with fresh lemon and herbs and served over colorless quinoa, would have been more appealing with some added veggies other than the lone split tomato!
To be fair, Red just opened. I should give it some time to find it's groove and head back for another try. I'll be sure to order those scallops!
Red
50 Orange Street
New Haven, CT 06510
203.859.6666
www.rednewhaven.com