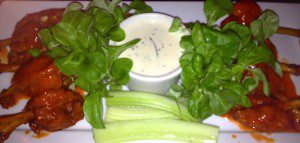 Upon arrival at Rare Bar & Grill in the Hilton NY Fashion District, we were warmly greeted by the staff  — inviting, attentive service lasted throughout our meal. I liked that.
Don't miss the spicy lollipop chicken wing appetizer served with fresh mache and celery sticks along with a warm roquefort fondue ($10).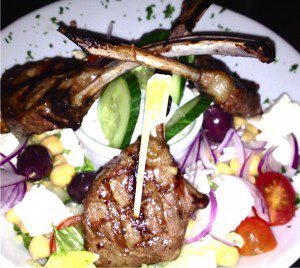 The lemony Greek salad consists of a large bowlful of greens, grape tomatoes, cucumber and slivers of red onion tossed in a light vinaigrette and topped with three grilled baby lamb chops and a side of tzatziki ($17).  The salad's a meal itself. I found the tzatziki a bit bland, wishing only it had lots more garlic.
As recommended by our waiter, we ordered a medium-rare T-bone steakhouse burger. Instead of ground beef, it's a blend of ground sirloin and strip steak. The burger's flambeed in tequila, wrapped in apple smoked bacon and topped with cheddar cheese and a mountain of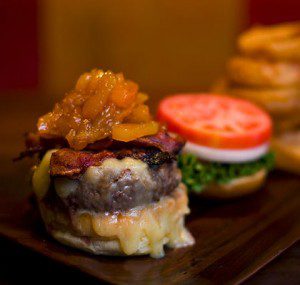 crispsy onions ($21), with a soupçon of truffle mayo on the bun. We also sampled the cowboy ribeye steak ($28) — a huge 22 ounces of ribeye with a side red wine mushroom sauce and a creamy risotto with a smidgeon of spinach and splash truffle oil  ($28). I'd recommend either.
What French fry lover could resist a tasting basket ($10) with a mix of cottage, hand-cut and sweet potato frie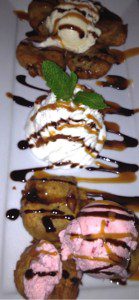 s with a choice of dipping sauces. The choices include honey maple for the sweet potato fries, a spicy Mexican ketchup with chipotle puree and dried guajillo peppers,  chipotle aioli,  barbecue sauce and, of course, ketchup.  Silly us, we also ordered of their crispy beer-battered onion rings ($4).
For dessert we had another burger, but this one was a fruit "burger," with fruit (watermelon, pineapple canteloupe some sliced oranges, and strawberries) cut and arranged to look like a burger. And  Oreos, dipped in tempura batter, deep fried and topped with vanilla and strawberry ice cream then drizzled with caramel and chocolate sauces.
Be sure to come with an appetite – or plan on taking home leftovers.
– bonnie
Follow @BonnieBOTB
Rare Bar & Grill
152 West 26th Street
New York, NY 10001
(212) 807-7273
rarebarandgrill.com