CITY EDITIONS
November 27, 2013
Qi Esarn Thai Kitchen (formerly Qi) celebrates the fragrant, bold flavors of the North Eastern region of Thailand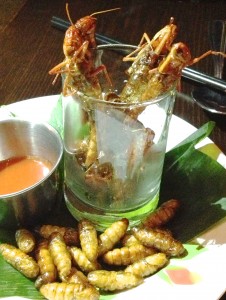 with menus designed by chefs Pichet Ong and Claire Handleman. I was invited sample their fare when the restaurant recently re-opened.
Chef Claire (formerly of ABC's The Chew) developed her palate cooking in Thailand, where she mastered the skill to layer and balance Thai ingredients and spices. She uses the Esarn region's profile of flavors that includes fresh herbs and spices, hot peppers, fermented ingredients, tangy sour citrus notes.
Pichet Ong — whose career has taken him from fine French cuisine back to his Thai roots — brings both traditional dishes, as well as his trademark whimsy to the Esarn menu. He had been named one of the Top Ten Pastry Chefs in America by Pastry Arts & Design and Chocolatier, was selected as a "Pastry Provocateur" by Food & Wine and in 2002, he was named Starchefs.com's "Rising Star."
Although many others at the table indulged, I realized that I'm not as adventurous as I used to be as the dug-darr Gub Thu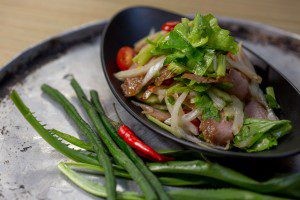 ggatan Tohd were placed on the able — that's fried silk worms and grasshoppers.
Some menu items that I did sample included curry puffs (pastry filled with chicken, potatoes, onions and curry)  Yahm Kor Mooh Yahng (a pork neck salad iwth spicy dipping sauce); Neua Namtok (a tamarind-marinated grilled hanger steak salad with mint, scallions), Mooh Pingh (grilled pork skewers in coriander Esarn herbs & coconut marinate, spicy tamarind dipping) , Goong Pao Yahm Pollamai (grilled tiger prawn with Thai gooseberries sun-dried shrimps, tamarind, mixed fruits, tomatoes, cashew nuts, peanuts and toasted coconut) and many more that I'd recommend you stopping by to try.
- bonnie
Qi Esarn Thai Kitchen
31 West 14th St.
212.929.9917
www.qirestaurant.com
Rate This Product
Mouseover the crowns to highlight your rating and then click to record your rating. The rating shown is the average of all the user votes. You can only rate each product once.
Leave a Comment or Write a Review
Posting Policy
Bite of the Best encourages our readers to comment on and review any products that we write about. Please express your opinions in a mature and civil tone of voice. We will not post rude or otherwise inappropriate material on Bite of the Best. We look forward to your comments and reviews!