After not being picked for the Book of Mormon lottery for the second time, my friend Tom and I decided to get a bite to eat to drown our sorrow.  We ended up at Pongsri Thai Restaurant, almost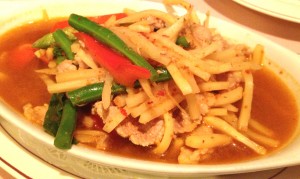 around the corner from the Eugene O'Neill Theater where we weren't seeing the show!
Tom — who had been to Pongsri before — spearheaded the ordering. Our appetizer was #11 – Beef Laab ($10.95) seasoned ground beef mixed with ground toasted rice, lime juice and mint, served with fresh lettuce  to wrap and enjoy. Nice, we needed more lettuce for to wrap up the beef.
Our entrees included #106—Jungle Curry with Pork ($12.95), billed as hot-spicy (not so hot or spicy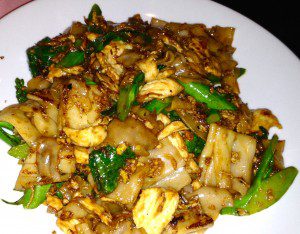 at all) in a fresh chili paste curry with green beans and bamboo shoots. Mediocre at best. But what I really like is their #124 Chicken Pad See Ew ($10.95) with stir-fried broad rice noodles with Chinese broccoli, egg and black soy sauce. Oddly the restaurant charged $1 for rice to accompany the dishes. The Banyan 2006 Riesling from California ($5.50 a glass) nicely balanced the spiciness of the dishes.
Still I'd go back just for — worth the trip and won't break the bank — Chicken Pad See Ew!
Wanting to go to theatre that evening, I picked up a ticket to The Heiress at TKTS,  a disappointing production with the emotionally flat Jessica Chastain in her Broadway debut, an okay David Strathairn and Dan Stevens (from Downton Abbey fame) and — thank goodness for — Judith Ivey, who stole the show!
Pongsri Thai Restaurant
244 West 48th Street
New York, NY 10036
212.582.3392