The Pond House Cafe in Elizabeth Park is a perfect destination for brunch — before or after a walk through their incredible rose gardens .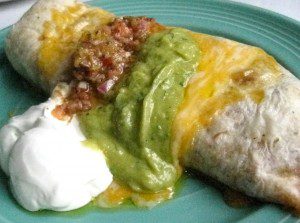 As we sat there trying to decide what to order, all the food that was served at tables around us looked inviting.
We settled on the Veggie Burrito ($11.42). A delicious flour tortilla full of  refried beans, roasted red peppers, caramelized onions and a smidgen of of mozzarella and Parmesan. I'd highly recommend that.
The Pond House Cafe's brie and apple omelet ($7.25) was interesting but quite bland.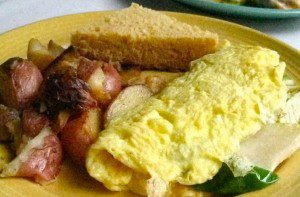 I would have preferred the Granny Smith apples sauteed in butter and brown sugar (or something) before being added to the omelet. I would have also preferred lots more cheese inside as I had to hunt to find any. I found this chef stingy with cheese – although I heard their between chefs right now. That could have been the problem.
Still I recommend the Pond House Cafe for a bite to eat while touring their incredible gardens. I know I'll go back to sample some of their other offerings.
– bonnie
Pond House Cafe
1555 Asylum Avenue
West Hartford, CT 06117
(860) 231-8823
www.pondhousecafe.com