I ended up eating at Pizzeria Mozza by myself, as the friend I was meeting had to cancel. I was upset only that I had no one to sample and share more of all the amazing food with… at this always packed Hancock Park, just South of Hollywood place.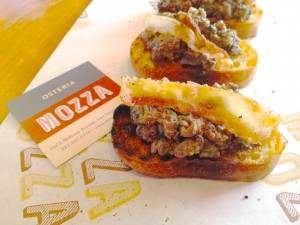 I found the staff amazingly friendly and accommodating, and the food spectacular. This place is not to be missed  – it's even worth driving in the classic LA horrific traffic to go to.
I had been told not to miss the chicken liver bruschetta (always on menu). The buttered toast is topped with chopped chicken livers ($9) and served with capers, parsley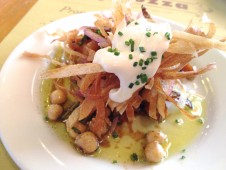 and crisp guanciale (9). Amazing, but too rich for me to finish on my own. I was able to consumer one piece, and brought the rest to the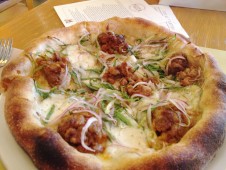 friends I was staying with.
While waiting for my pizza (which I was also told not to miss), the manager sent out a salad of roasted carrots with chickpeas all in a heavenly cumin vinaigrette ($9),  topped with crispy onions and a fresh cream.
I then indulged in a Tomato-less pizza with house made fennel sausage, panna (heavy whipping cream), red onions and scallions ($17) on Nancy Silverton's (think Brea Bakery) amazing crust.
I washed all this down with wine Gavi di Gavi "La Meirana" Piero Broglia, Pedmonte 2011 ($18), served al quartino (250 ml).
Note to self:  next time in LA come with more people to try more goodies.  I highly recommend.
– bonnie
Pizzeria Mozza
(Hancock Park)
641 N Highland Ave
Los Angeles, CA 90036
(323) 297-0101