For tasty tapas in the Union Square area, stop by Pipa, which lives up to its name — Pipa is Spanish slang for "having a good time."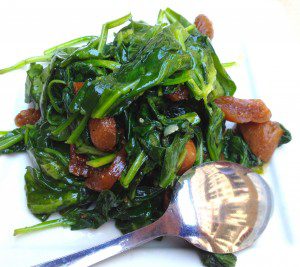 My friend and I shared a order of three crispy Goat cheese croquettes ($10) that melted in your mouth. The croquettes came accompanied by a white wine dipping sauce, with was superfluous, as they were perfect on their own..
The simplest dish was sublime – with fresh spinach and garlic sauteed in olive oil and tossed it with dried figs. Perfection ($7).
Also garlicky are the Gamgas al Ajillo ($15) sauteed Ecuadorian shrimp with a nice heat kick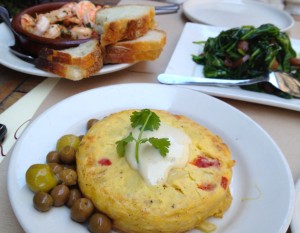 from the added chilies. We lapped up the spicy garlicky oil up with some crusty bread.
The Tortilla Espanola ($10), the traditional Spanish potato, onion and piquillo pepper omelet  with manzanilla olives on the side, rounded out – and perfectly balanced our selection of tapas.
I highly recommend Pipa and all the tapas we sampled.
– bonnie
Pipa
38 E 19th St
New York, NY 10003
(347) 706-3343
Gramercy/Flatiron
pipa-nyc.com