I much prefer Pier A's casual outdoor benches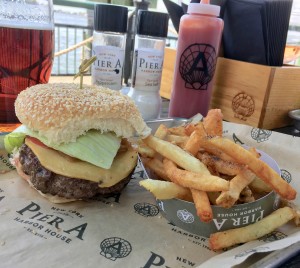 during summer and fall than their white tablecloth section upstairs. From the patio, there's a view of the water with the Statue of Liberty and boats in the Hudson. A perfect place to grab a bite when down at Battery Park.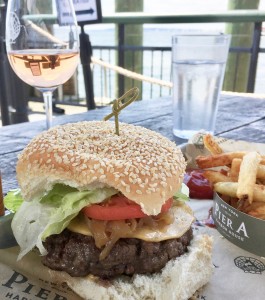 We did so after walking downtown and stopping in to see the reproduction of Michaelangelo's Sistine Chapel at Oculus Plaza at Westfield World Trade Center, which was there this summer. The ceiling frescoes from the Vatican's Sistine Chapel were reproduced at museum quality near original size.
After that walk, we were in the mood for a burger. The Long Hall hand-pressed one with fries hit the spot ($16) with a perfectly cooked one topped with caramelized onions, smoked Gouda, lettuce and tomato. I washed mine down with a pint of Smithwick's ($8); my friend with a glass of their Grenache Rose ($13), Domaine Saint Andrieu L'Oratoire, Provence 2015.
I do recommend!
– bonnie
Pier A
Battery Park
22 Battery Place,
New York, NY 10004
(212) 785-0153

Save
Save
Save