Pera — the midtown Turkish restaurant recently moved south of Houston and invited a group of media to sample the Eastern Mediterranean  menu, with a Turkish bias.
We started outside on their 90-seat terrace keeping warm both by standing next to propane heaters and sipping some hot toddies. I'm looking forward to coming back in warmer weather and dining out in this expansive courtyard.
Our group sat in a private dining room that could accommodate 40, with glass doors to shut out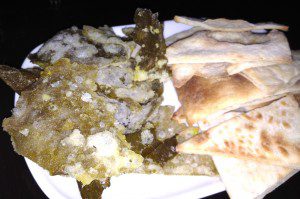 other noise, but allow you to see the action in the restaurant. We began with the not-to-be-missed spicy muammara with thin, crisp chips made from grape leaves.. yes, grape leaves…  coated with chickpea flour and tapioca, and fried, tempura style. The results? Thin, delicate chips, a perfect foil for the spicy red pepper dip, just as the pita chips were fo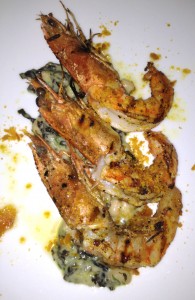 r the smoked eggplant mixed with garlic yogurt.
As Pera Soho has a more seasonal and seafood-centric menu than its uptown relative, our first course was a seafood trio with fried Turkish anchovy-fishy "silverfish" with olive and grapefruit, tuna tartare over a smoked eggplant and garlic tahini and — my personal favorite—  a chilled octopus salad with black kale and almonds.
Next course was the Pera Soho mixed veggie salad in a light lemon dressing and another not-to-be-missed  grilled head-on prawns over a delicious coco beans, parsnip, black kale and bottarga. Our section of the table  as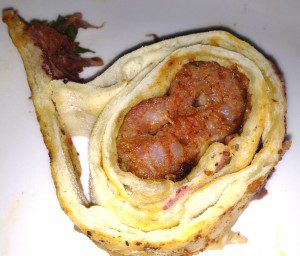 ked for — and devoured — an additional order!
Next was the tasty  lamb "andana" roll, a hand ground mixture of lamb and Eastern Mediterranean spices, rolled with onion, parsley tomato and sumac, plus sliced sirloin 'shaslik" steak with grilled red and green peppers and sweet onion, served with a bulgur pilaf.
I'd say a trip south of Houston to sample this is worth it.
– bonnie
Follow @BonnieBOTB
Pera Soho
54 Thompson Street
New York, NY 10012
(212) 878-6305 F