After an afternoon of shopping, some friends and I stopped into Parea Bistro for a light late afternoon nibble.
According to the menu, the definition of the Greek word Parea is a group of friends who regularly to gather together to share experiences about life ….  I smiled as read that as those were the friends I was with. A perfect respite for us.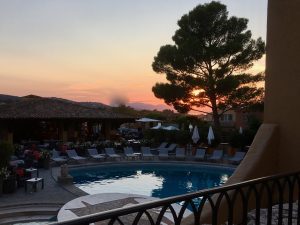 Eating so late has the benefit of running right into happy hour resulting in our wine costing only $5 a glass!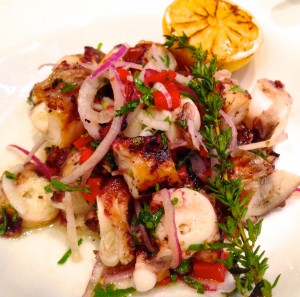 We sampled their refreshing roasted baby eggplant and feta spread ($4)  served with lots of warm, toasted pita quarters. We also used them to  dip into the tender oven baked giant white beans ($8) floating in a light tomato sauce.
Next, we shared an order of moist and tender Spanish octopus braised for four hours in red wine, then grilled ($18) and an order of  steamed wild greens ($5).
So perfect for that nibble that I must return to try more!
– bonnie

Parea Bistro
36 E 20th St
New York, NY 10003
(212) 777-8448
http://www.pareabistro.com/