On balmy nights in NYC, I look for an outdoor dining space. I found Palma — a rustic Mediterranean restaurant, nested on quaint Cornelia Street in the heart of the West Village — with a hidden flower-filled garden.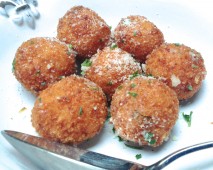 We started with the wonderfully crisp Arancini Siciliani, an Italian classic of crispy risotto bites filled with a mixture of cheeses and a touch of tomato. Next we shared the ordinary farmer's market arugula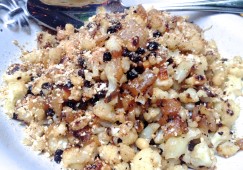 and fennel salad with balsamic vinaigrette and shaved parmigiano, garnished with crispy pancetta ($12.00).
What's not to be missed is the Cavolfiore Palma, their flavorful sauteed cauliflower with roasted pine nuts, caramelized onion and currants all finished with buttery breadcrumbs ($10). Also good is fresh burrata with sliced ripe yellow tomatoes.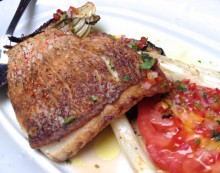 For our entree, we tried the evening's special of pan-seared fillet of red snapper with roasted fennel, white asparagus, eggplant and heirloom tomatoes, over a light sauce of roasted red and yellow peppers with extra virgin olive oil, lemon juice and fresh parsley. The fish was perfectly prepared with crispy skin, and tender moist flesh.
I'd recommend for alfresco Italian dining when in the West Village.
– bonnie
Palma
28 Cornelia Street New York, NY 10014
(West Village between Bleecker Street & West 4th Street)
(212) 691-2223