CITY EDITIONS
May 19, 2012
I met a friend recently at Otto Enoteca Pizzeria, located on 8th Street,  one of  Mario Batali and Joe Bastianich's places this one is on the corner of 8th and Fifth Avenue (entrance on 8th), as it was a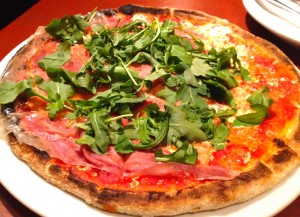 perfect place for a quick drink and snack. Otto is modeled after an Italian train station,
Not surprisingly the Sauvignon Blanc ($10) 2010 Fruili they offered was a Bastianich one. It was clean, crisp and worked well for afternoon drinking with a pizza. My friend enjoyed a Stoudt's APA draft ($7). We had just planned to have a drink – but smelling the aroma of the pizza's intrigued us – and we order one pizza –  a cracker-thin crust topped with proscuitto & arugula over a fresh tomato sauce; no cheese ($14).
I'd go back for more!
- bonnie

Otto Enoteca & Pizzeria
1 5th Ave
New York, NY 10003
(212) 995-9559
Greenwich Village
ottopizzeria.com

Leave a Comment
Posting Policy
Bite of the Best encourages our readers to comment on and review any products that we write about. Please express your opinions in a mature and civil tone of voice. We will not post rude or otherwise inappropriate material on Bite of the Best. We look forward to your comments and reviews!