PAST BITE
October 8, 2008
What it is: A barrel-aged champagne citrus vinegar made in the old-world method
How it comes: 200 ml (6.8-ounce) bottle
Where it is: At ooliveoil.com or amazon.com
Who it's for: Anyone who appreciates the subtleties of fine vinegars
Suggested retail price: $12
Nutrition notes: Like all vinegar, low in calories with 5 per tablespoon
Category: Fabulous Food: The pantry


---
Bonnie: The decision was difficult. We pondered which flavorful "O Olive Oil" product we'd select as this week's FeaturedBite.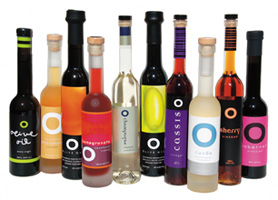 One of their flavorful citrus olive oils, perhaps?
After all, they're made in small batches where the organic citrus fruit is crushed together with the olives. I drizzle the Meyer Lemon over my lightly salted grilled asparagus or my salad, the Blood Orange over roast turkey or duck, and the Tahitian Lime over salmon or shrimp. O also makes a Clementine, Jalapeño Lime and Ruby Grapefruit Oil. Each transforms whatever you're using it on to something subtly spectacular.
Or, should I select one of their rice or wine vinegars?
"We are one of the last vinegar makers that barrel-age one batch at a time in the old-world Orleans method," explained Mario Aranda, vice president at O Olive Oils. It's "a long, painstaking process but, here again, one that pays off well in the finished product."
He's so right. These are not harsh, acidic vinegars, but ones that add a delicate flavor to foods. I use Ginger Rice vinegar in my Asian dishes and marinades and one of the three balsamics (regular, port and white) for classic salad dressings, over a pork roast or drizzled on fruit and Stilton or Roquefort. But when I looked at the counter filled with their oils and vinegars, I notice that my Citrus Champagne Vinegar had the most missing.
Citrus Champagne Vinegar derives from regional California champagne, aged in oak barrels, with a hint of lemon. No, there are no bubbles in the final vinegar as that aging, along with evaporation, removes them. One taste and it's obvious why this is O's most popular vinegar.
I splash it over cubed heirloom or late-summer, early-fall tomatoes, then add olive oil, basil, crumbled chèvre , sea salt and freshly ground pepper. Perfection. It's great on any salad, veggie, or seafood, whether grilled, steamed or sautéed.
Bryan: What is more essential in a kitchen than oil and vinegar? Okay, maybe salt and pepper (well, definitely salt and pepper). But after that, it's oil and vinegar. I use olive oil on basically everything. I've actually gone out and purchased two large olive oil bottles with closing pour spouts so that I no longer need to fumble with screw caps. Whatever oil I'm using loses its branding identity and gets funneled right into my quick-use bottle. Olive oil coats my pans, flavors my garlic bread, and spices up my tuna. It is the base for all of my dressings and many of my marinades and is spread over anything going into my roaster. I'm a bit of an oil indulger; that was until I received my shipment of O Oils and Vinegars.
It almost sounds as though I don't like these products. Can you feel the tension? But that is just not true; O is AMAZING. These are boutique, hand-crafted masterpieces. The variety of intense and surprising flavors from Blood Orange Oil to Zinfandel Vinegar simply wowed me. There, I said it. So why, you ask, was I such an indulger before getting my O Oils and Vinegars but not after? It's because I just cannot bring myself to carelessly fling this product around. It would be like letting your toddler finger-paint with gold leaf.
Bonnie is right when she says that it was difficult to pick out which particular product to highlight from this amazing collection. It was a bit like a group of fans trying to select a favorite Beatles song: Agreements and disagreements overlapped heavily. After much discussion, we did settle on the Citrus Champagne Vinegar, which just eked out the Zinfandel in my mind by being much more original. (Do try the Zin though, partially reduced and drizzled over a pork chop.) As I feel a bit like my thunder was stolen — my recipe suggestion is almost identical to Bonnie's — I will at this point just encourage you to remember to get heirloom tomatoes (none of those horrible round tomatoes) to create your chèvre salad. Hit it with the Citrus Champagne and a dash of the Jalapeño to remember what eating is all about.
Eric: For days I was thinking about what I wanted to write about this magnificent collection of oils and vinegars, especially the Citrus Champagne Vinegar. Although I'm always inspired in the kitchen by the variety of tastes they allow me to achieve, it is still hard to transcribe my love affair with them into words. Until the night before my deadline, I still had writer's block: "How can I express how truly unique this vinegar is?" I thought. As I sat back on my couch I looked over the table covered in the remnants of the food from dinner: half an ear of corn (fresh from the local farm), two strips of herb-crusted chicken and a bowl that looked like it had been licked clean. I sat up and realized that the bowl used to hold the ingredients for my mother's traditional heirloom salad. This is when my inspiration struck.
This vinegar is so good that it turned my girlfriend, who couldn't stand the taste of vinegar, into the one who drinks the remainder of the salad dressing with a spoon. I can't help but laugh every time I see her heading for the bowl, smiling from ear to ear, with a piece of crusty bread in her left hand and the spoon in her right.
5 Comments on "O Citrus Champagne Vinegar"
Cheri S Says:


I really like your products, I buy them all the time. I have had trouble with the bags of white rice the seal leeks and the rice blows out into the microwave and makes a mess. To be exact I have had three bags do this, has there been anyone else that has had this problem????

Bonnie Tandy Leblang Says:


Cheri, which product are you referring to? Three bags of what?

Bonnie Tandy Leblang Says:


Sharon, Which olive oils are you referring to? These fabulous O oils? They are more of a specialty item – that you can buy at a gourmet stores, online or — better yet — ask your grocery store manager to carry them!

lisa e Says:


i live in pleasant grove utah. i really would like to try your products. i am very interested in the all-purpose flour made with the whole grains. do you sell to costco or macey food stores. there are both close to my home.

Bonnie Tandy Leblang Says:


Lisa, we don't sell products — we just recommend them. But I will ask the makers of Eagle Mills All-Purpose flour (that's whole grain) to let you knew where to purchase it. Stay tuned.
Rate This Product
Mouseover the crowns to highlight your rating and then click to record your rating. The rating shown is the average of all the user votes. You can only rate each product once.
Leave a Comment or Write a Review
Posting Policy
Bite of the Best encourages our readers to comment on and review any products that we write about. Please express your opinions in a mature and civil tone of voice. We will not post rude or otherwise inappropriate material on Bite of the Best. We look forward to your comments and reviews!