I couldn't resist the offer to head for dinner and a movie at Nitehawk in Williamsburg.  Nitehawk is New York City's first movie theatre with table service including alcohol.
Nitehawk has three cinema-eatery screens where you order your food from a full dinner menu while sitting at a table replete with cup holders attached between two seats. The servers try to serve dinner before the movie starts, but that was not the case when I was there. In fact, we were the last ones in the theatre served but — to be fair — our server was new! When you go, be sure to arrive 30 minutes before the movie's start time to get your order in – and to watch the unique pre-movie shorts.
We saw Quentin Tarantino's Django ($11). If you haven't seen it, it's Tarantino's controversial look at slavery done with his usual dark humor. Tarantino could easily have trimmed ha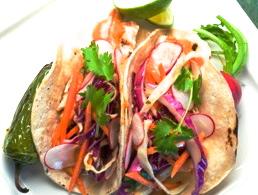 lf an hour from the 2:45-hour long film. (I've felt that way about most longer than 2 1/2-hour movies, other than the engrossing Zero Dark Thirty — the story of the capture of Osama Bin Laden  — which is not to be missed.)
Back to the food, which by the way was conceived by Michelin-starred chef Saul Bolton, is served on real (not paper) plates and with regular (not plastic) utensils.
The fish tacos Veracruzano ($15) were tasty, redolent of chipotle and cilantro. The salads are unusual and plentiful. The raw kale salad ($13, my favorite) contained Gala apples, golden raisins and crispy cheddar, lightly dressed with a maple vinaigrette.  The arugula salad ($12) was supposed to have roasted butternut squash, toasted almonds and goat cheese in an apple vinaigrette. I think they forgot the goat cheese, but I couldn't tell for sure  as it was quite dark with only the light from the film and a small one under the table! I really wish I could have  seen what I was eating.
Our apps — which came after our entree and salad — included grilled flatbread ($10) with arugula pesto, portobello mushrooms and shaved parmesan, and hummus with carrots, celery and grape tomatoes along with ($6) pita bread. All that washed down nicely with a bottle of Bevlam Malbec, Mendoza, Argentina, 2010, $38.
For sure thought when I return, I'll simplify and perhaps just order one of the delicious smelling house burgers and fries!  I highly recommend Nitehawk as a fun place to see a movie!
Nitehawk Cinema Cafe
136 Metropolitan Ave
Brooklyn, NY 11211
(718) 384-3890