Having heard about a new modern Thai comfort food restaurant, I stopped by for a nibble recently with a friend.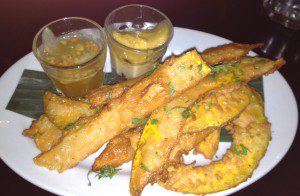 We sipped a some Gruner Veltliner (Gustav 2009, Wachua $39) while looking over their mid-winter menu.
We began with an order of Chiang-Mai Fries ($6), fried batons of  kabocha pumpkin and sweet potatoes in a curry batter that are served with both a red curry mayo and a sweet & sour peanut relish. The former was the better sauce. Although the flavor and texture was  interesting, I wouldn't suggest ordering it.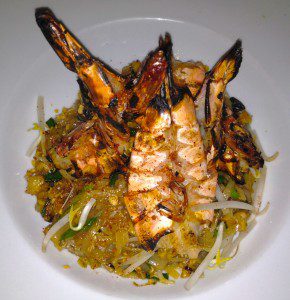 I would — though — order the Classic Pad Thai with large tiger shrimp. (You also could choose chicken, pork, veggies or tofu to accompany the tasty noodles.) Delicious, although we left chunks of  spongy tofu ($12) on the plate.
The most unusual dish  that  I recommend  — even though they forgot to add our lobster! — is the "Kao Soy" ($18). It's beet ravioli  (no it's not a typo – as it is beet ravioli)  in a spicy curry broth topped with banana blossom chips, pickled mustard. Your order comes with a choice of tofu or lobster. Worth the trip.
– bonnie
NGam
99 3rd Avenue
New York, NY 10003
(212) 777-8424
ngamnyc.com