CITY EDITIONS
October 6, 2009

My friend — who was home recuperating — sent me to Chop't when I asked where she's like me to pick up lunch. My only instructions, "No onions or green peppers."
Having never been before, I was a bit overwhelmed at the fresh selections — from 5 lettuces (romaine, iceberg, arugula, spinach, mesclun), 27 add-ins, 19 meats and premium choppings, 6 cheeses, 3 fruits and nuts and a selection of 29 things to dress it with.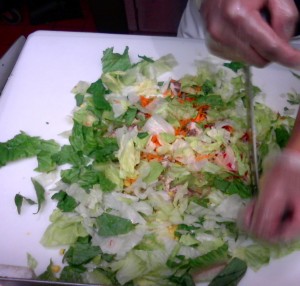 My turn came too quickly as there was no line, so instead of hand-selecting my ingredients,  I chose one from their classics menu that fit the bill: Harvest Cobb – with grilled chicken, granny smith apples, walnuts, beets and goat cheese chop't with romaine lettuce and spinach. Thank goodness Chop't provided dressing suggestions.
I watched as one server added each of the ingredients I had chosen to a large plastic take-out bowl. (I opted for the salad, over those ingredients being rolled up in their grilled flatbread as a wrap.)  The next server then dumped the ingredients onto a cutting board and — using a mezzaluna, a curved knife — chopped them, moved that to a bowl where he tossed the salad with my dressing selection and scraped all that back into the large plastic take-out bowl. The price for this crisp freshly chopped salad that easily served two: $9.75.
I grabbed a menu, so that the next time, I would have my selections ready for to be chopped.  As I know I will return to this location or one of the others around the city! Great for a reasonably priced, fresh meal.
- bonnie
Chop't
24 E. 17th Street
New York, NY 10003
646-336-5523
Leave a Comment
Posting Policy
Bite of the Best encourages our readers to comment on and review any products that we write about. Please express your opinions in a mature and civil tone of voice. We will not post rude or otherwise inappropriate material on Bite of the Best. We look forward to your comments and reviews!