I'm always on the lookout for a place to get a quick nibble before seeing a Broadway show. Casellula Cheese & Wine Bar on 52nd Street near Ninth Avenue fits that bill.
While perusing the menu, we started with a chilled bottle of Grooner, an Austrian Gruner Veltliner ($32), my white wine of choice since returning from a wine excursion to Austria in September.
Our knowledgeable waitress Sophia explained that the Pig's Ass Sandwich was the restaurant's signature dish. She described it as a Cuban-style hot sandwich of two types pork, two cheeses, and pickles on crusty bread ($12). I was game, but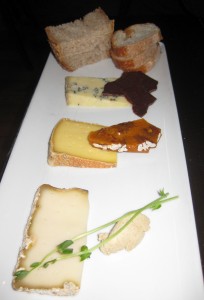 since my dining companion is vegetarian, I'll need to return to try that.
Instead we opted for the waitress-recommended non-meat selections. We began with a plate of ricotta crostini ($6): homemade ricotta on a crisp slice of baguette , drizzled with orange blossom honey and topped with lemon zest and toasted hazelnuts. Good, but a bit bland.
Cheese and wine are this restaurant's raison d'être.
The menu contains more than 40 cheeses from all over the world, ranging from the familiar to the obscure and from mild to incredibly strong — each paired with an unusual condiment. Sophia suggested the From Vermont With Love flight of three cheeses ($18): Twig Farm Tomme, a goat cheese paired with an egg porcini mascarpone cream; Dancing Cow Farm Bouree, a cows milk cheese paired with a pecan brittle, and a Gore-Dawn-Zola, a blue cheese pared with a crispy chocolate feiulletine.
I enjoyed the cheeses but found the pairings a bit sweet for my tastings. Next time, I'll for sure try that Pig's Ass Sandwich and report back.
– bonnie
Casellula Cheese and Wine Cafe
401 W 52nd St
New York, NY 10019
212-247-8137
www.casellula.com