CITY EDITIONS
November 5, 2009
As I walked down 42nd Street toward 9th Avenue it felt so honky-tonk that I tightly clutched my purse as I wondered what I had gotten us into when I recommended Chez Josephine for a pre-theatre dinner.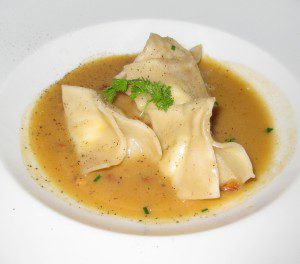 As a dapper French gentleman — who I later learned was Jean-Claude Baker adoptive son of the eponymous Josephine — opened the door and invited me in I knew this would be a respite from what I experienced on the street. That and the sound of a pianist playing Cole Porter's "Night and Day."
We opted for the prix-fixe menu ($35). Nothing to rave about — but nothing to complain about either. The service is a tad harried as staff tries to get everyone fed and out for their 8 pm curtain.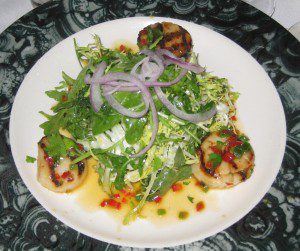 My friend's Roasted Butternut Squash Soup needed just a dash of seasoning, while my Chinese Ravioli (filled with fresh goat cheese and roasted pine nuts) was fine. Our Diver scallops were grilled just right — so tender and moist, served on an orange-honey glaze topped with a lightly seasoned arugula salad.
I requested no singing, but a candle in the Honey Crisp Apple Tarte Tatin topped with Creme Fraiche. It was my friend's b-day, but I didn't want to totally embarrass her.  Chez Josephine did even better: the pianist played "Happy Birthday" as they delivered the dessert, with happy birthday written in chocolate on the plate. Nice touch.
Visit Chez Josephine for simple bistro fare, good proximity to the theatre, a warm welcome and a live piano every night.
- bonnie
Chez Josephine
414 West 42nd Street
New York, NY
212.594.1925
www.chezjosephine.com
2 Comments on "New York: Chez Josephine, Good for Pre-Theatre"
marla Says:


Bonnie,

What a great place to have some fun, lots of ambiance, & fairly priced food,( where can you find that anymore?). Lots of choices & the prix fixe dinner is a nice option & you can walk to most theaters

Thanks so much for another great "Bite of The Best" find

What would we do without you?

M

Jolane Says:


I wanted so very much to like this restaurant because I just love Josephine Baker. Unfortunately, it fell short. The wait staff was neither accommodating nor attentive to ME.
Leave a Comment
Posting Policy
Bite of the Best encourages our readers to comment on and review any products that we write about. Please express your opinions in a mature and civil tone of voice. We will not post rude or otherwise inappropriate material on Bite of the Best. We look forward to your comments and reviews!