Attended Noise On 9 earlier this month to try to support local New Haven merchants. The event — run by a rude older woman – coddled some local bloggers, feeding and imbibing them with wine hoping they'd tweet about it. Sadly, she had little regard for regular attendees. Not a good thin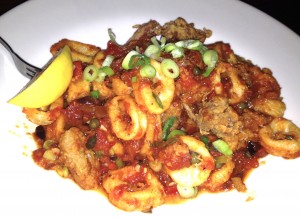 g when promoting a city!
Since there was little going on, we ended up having a nibble at Michaels's Downtown in the space that Blue Pearl had occupied on Court Street.
The appetizer portions are almost entree size. Filling indeed. We shared their fried (actually sauteed) calamari in a spicy Sicilian marinara sauce, replete with capers and fresh scallions ($9) – tender and tasty. We also sampled their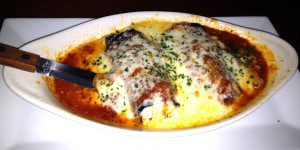 eggplant rollatini – thinly sliced eggplant filled with mozzarella and ricotta, covered with a flavorful red sauce, topped with more cheese and baked ($9).  I'd recommend either one. Service was also quite friendly and attentive.
Michael's Downtown
130 Court St
New Haven, CT 06511
203-507-2677