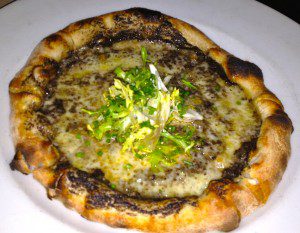 When in doubt, Jean Georges. There are so many quality restauranteurs in Manhattan, but who else is as consistent as JG ? With restaurant week in full swing, the options for dinner on a Friday night were overwhelming. Too many options? JG. Mmmmmm.
Mercer Kitchen has a modern open feel, something that brought a bit of amazement considering most of the seating is in the basement. This catacomb come culinary catalyst turns out simple, elegant fare as only Jean Georges can. Its just one of those restaurants that persists, as it should.
Dining with a group of three, we took the opportunity to have one (1) order of the restaurant week menu ($35). The three-course prefix began with a black truffle and fontina cheese pizza, a dish small in size but so rich in flavor that it could serve as a light meal in itself, if only served with a side salad.
For our entree selections, the prefix allowed us to sample an incredibly tender, organic roast chicken with mashed potatoes, French beans and baby carrots. The chicken was more than could've been expected, succulent and moist. Tasty and needing not a drop of salt. The only disappointment were the unfortunate
tastelessness of the waxy yellow (french) beans.
We added a second entree to our prefix to feed the table of three. Baked salmon, tender and perfectly slow cooked medium-rare with a side of  — again — whipped potatoes. The repetition was fine, even for sharing, as the richness of the side made sure it disappeared fully. The plate was topped with sauteed, shredded Brussels sprouts and served in an unforgettable black truffle vinaigrette ($24)
In addition to our two entrees, we also added a much loved side; the very creamy and very cheesy ($6) mac and cheese served in a mini cast-iron pan.
Dessert? Who can resist a warm molten chocolate cake topped with icy cream. We didn't even have to pretend to decide, as the prefix finished off with it. I only wish the cake was a tad less baked and a bit more liquid, but really. Who can argue with that. $100 for three people in New York City. Thanks JG.
– bonnie and bryan
Mercer Kitchen
99 Prince St
New York, NY 10012
(212) 966-5454
jean-georges.com