Market Table is located at the corner of Carmine and Bedford Streets in the Wes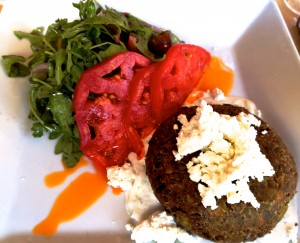 t Village. The small bright dining room has brick walls and wooden tables. Food is seasonal and perfectly prepared.
I lunched on a roasted vegetable falafel sitting in a puddle of tzatziki  and topped with feta cheese — accompanied by a lightly dressed salad ($15) . Worth the trip.  It married well with my glass of crisp Gebling Kremstal Grüner Veltliner ($15).
Market Table
54 Carmine St
New York, NY
212.255.2100
markettablenyc.com/