After our visit to Coach Farm, we headed to Rhinebeck just for lunch (and to, of course, shop in all the small privately owned stores!) As I walked through the door of Market St, I inhaled the smoky aroma from the wood oven and decided right then that we had to order one of their pizzas.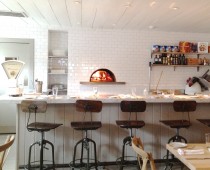 We sipped the crisp, citrus-scented Gavi di Gavi (Cortese), Tenuta Olim Bauda, Piemonte, 2011 ($44)  while perusing the menu, deciding which pizza to order. Since one of our group is a vegetarian, we chose the margherita ($12)— mozzarella, oregano and basil atop a fresh tomato sauce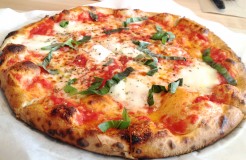 on a crisp crust.
The kitchen sent us a delicate and earthy crostini topped with pea shoot puree and drizzled with yogurt.
We also split two of their fresh salads – the diced roasted beets, topped with crumbled Coach Farm goat cheese and lots of fresh peppery arugula ($10); and the shredded organic kale with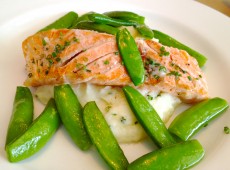 radish slivers, currants  toasted pine nuts and thin slices of Tuscan pecorino ($10).
Our main dish was perfectly cooked (still moist inside) slowly roasted salmon with mashed potatoes and fresh sugar snap peas with a black truffle vinaigrette ($19).
Still having room for dessert we shared the affogato – gelato drowned in fresh espresso topped in whipped cream and some fresh biscotti.  I recommend stopping here where shopping in Rhinebeck!
– bonnie
Market St
19 West Market Street
Rhinebeck NY 12572
845.876.7200
www.marketstrhinbeck.com