While out in Utah last month, I dined at Mariposa in Deer Valley with my friend Letty Flatt  — pastry chef and author of Chocolate Snowball: and Other Fabulous Pastries from Deer Valley Bakery (Globe Pequot Press), recently published in paperback. I mention dining with Letty so you'll understand why we sampled every dessert on the menu!
If you're looking for a night of fine dining after a day on the slopes, it's the place to go. I love sharing a meal with foodies – as then one gets to sample lots of menu choices. The four of us began with the "oyster lovers bliss" — their fresh kumamoto oysters from the Puget Sound on the half-shell topped with lime and aji chile vinaigrette, vanilla bean creme fraiche and smoked quinalt river steelhead roe  or house made horseradish cocktail and mignonette sauce ($5 each).
One of our group ordered the Chefs Vegetarian Tasting with the accompanying wines (a bargain at $75 a person) — and we all sampled each of the dishes.  My favorite of that menu were the
ethereally light lemon thyme gnocchi in a buerre blanc, topped with Rockhill creamery aged edam served with Vouvray, Domaine des Aubuisieres, "Cuvee de Silex" Loire Valley, France 2009. This is the not-to-be-missed dish.
Next was a fried green tomato topped with melted chevre, red and green chili sauces and topped with crispy shallots and leeks with Pouilly Fume, Regis Minet Vielles Vignes Loire Valley, France 2007; followed by a warm caramelized onion and gruyere tart with a watercress salad, muscat red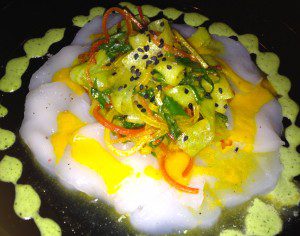 uction topped with roasted grapes served with a Riesling, Domaine Zind Humbrecht, Alsace 2008 and sauteed wild mushrooms, herbed quinoa cooked in mushroom broth, with cipollini onions, house dried tomatoes, crispy carrots and leeks with Pinot Noir, Longoria, Fe Ciega Vineyard, Santa Rita Hills, 2007.  
The other sampled dishes we sampled included the delicate diver scallop ceviche "cooked" in fresh lime juice with a lime and aji chile marinade in a cilantro emulsion ($17); a wild mushroom beggar's purse atop a beaujolais reduction sauce, some explorateur cheese with a side of baby greens; and a hand made shrimp ravioli filled with royal red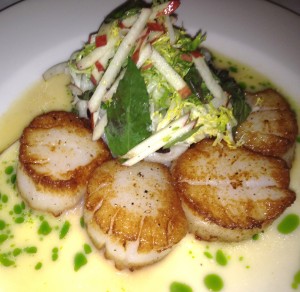 shrimp and brie in a gnocchi dough that was butter-browned and served with a tomato-confit-cipollini onion ragout ($18); and pan-roasted sea scallops with house cured bacon-chive risotto in a cider reduction drizzled with basil oil served with a gala apple, basil and frisee salad ($39).
We were quite full, but as I mentioned when dining with the restaurant's pastry chef, one can't say no to dessert. Pedro Ximenez, Alvear, Montilla Moriles, Andalucia, Spain 2004 was served with the tasting menu dessert.

Letty's book namesake — the Chocolate Snowball — is not to be missed. It's a dense, bittersweet chocolate cake with whipped cream ($10)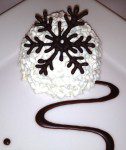 .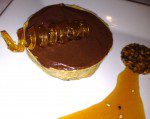 Also delectable are the:
the Milk Chocolate Cremeux Tart — chocolate that's salted caramel, yuzu marmalade topped with a sesame seed crisps ($10);
ice cream and sorbet that included wild blueberry ice cream on blueberry shortbread, lemon grass sorbet on a lemon and mint cookie, and cinnamon ice cream atop a brown sugar cookie($9);
a caramelized Granny Smith apple tart with a mascarpone mouse warmed with honey, apple jack jello that's topped with a warm apple cider sauce ($10);
a  beehive "barely buzzed" cheesecake layered with olive oil moscato cake and a cheddar frico served in a port wine grape sauce ($10);  and,
the Parisian: a warm winter nog, traditional vanilla custard timbale with lemon, chocolate peppermint and gianduja macarons ($10).
I  can't believe we sampled the entire dessert menu. No complaints,  as they were worth all the calories!
– bonnie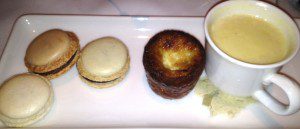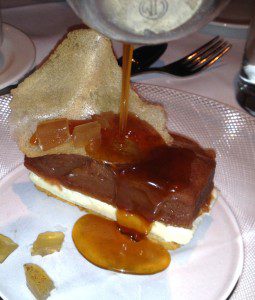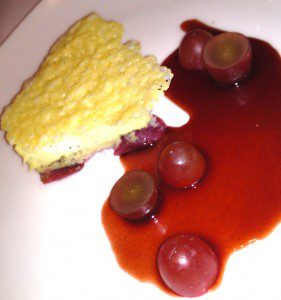 The Mariposa
7600 Royal St E
Park City, UT 84060
(435) 645-6715