After seeing Good with People, the recently ended two-person show part of the Brits Off Broadway series at 59E59, my theatre-going group headed downtown to Manzanilla, a brasserie-style Spanish restaurant that I had been hearing buzz about.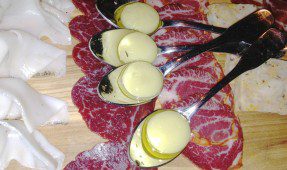 We could have been in Spain, as it was hopping at 9 pm — there wasn't an empty seat in the place. We shared lots of small plates. The one with the Chinese chili pepper infused crispy Brussels sprouts dusted with togarashi and drizzled with a truffle vinaigrette ($12) — was empty only moments after was put down. Be sure to try it.
Manzanilla's version of the classed tomato-smeared toast is a cured tomato tartare on toasted bread ($8) consisting of fresh, canned and sun-dried tomato pulp, flavored with steak seasoning to mock steak tartare.
I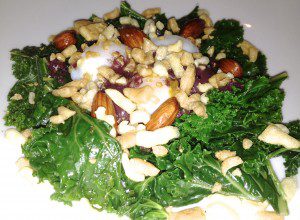 berico pork Charcuterie ($29) with two kinds of cured loin, head cheese, strips of lardo and more with a spoonful of salty green olive puree to cleanse your palate.
The squid ink and cuttlefish croquettes bursting with a bechamel come served in an egg-carton porcelain plate, each nestled between two aiolis — citrus on bottom and cilantro on top ($12).
The only disappointment were the huge overcooked pieces of smoked octopus on spicy chili-infused potatoes topped with a pimenton foam ($13). I would try this again as the flavor was fabulous.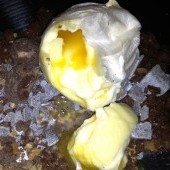 Before sharing, we tossed the kale salad with the just poached quail eggs and black olive dressing to be sure the yolk covered the greens and dispersed the Valdeón blue cheese, almonds and puffed wheat ($14).
For dessert we shared the creamy Spanish rice pudding topped with raspberry cotton candy and crunchy caramel — and a silver ball of white chocolate mousse with a yolk-colored mandarin and yuzu center (looking like an egg) with walnut brownie streusel and citrus yogurt ($10) to make Marbella's full moon. A visual masterpiece; tasty too.
– bonnie
Manzanilla
345 Park Avenue South (Entrance is on 26th St between Park & Lexington)
New York, NY 10010
(212) 255-4086