I couldn't refuse an invitation to sample Madame Tong's Redeux as it had a new owner, new chef, new menu and new decor and was supposed to be a new experience.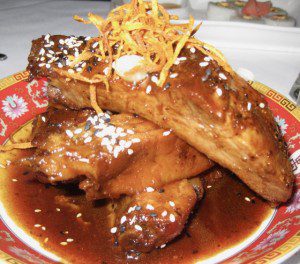 The experience was new alright, but not something worth recommending that is until they get their act together — especially the service and the timing of the food delivery. Our  entrees were served  while we were still enjoying our appetizers. And, we were one of only two tables filled in the large -capacity place.
I would — though — suggest going for one of their signature cocktails, specifically the watermelon martini ($15) and their BBQ rib appetizer ($15). Both worth the trip.  The martini is a blend of Ketel One Citroen vodka, deliciously refreshing and fresh watermelon puree, lime juice and a smidgen of sugar. And their ribs are some of the meatiest and tender I'm experienced. They could almost be a meal by themselves.
– bonnie
Madae Tongs Redeux
256 Elm Street
Southampton, NY 11968