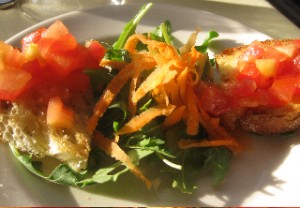 My iPhone found Luca Ristorante Italiano — and what a find.
We were on our way to see my childhood friend Nancy Sinacori perform in "Beyond Therapy" at the Carriage House Arts Center in Cranbury Park, Norwalk and decided to wing it as to where to eat.
Yes, I know this can be perilous, but it was a beautiful August night driving around in a top-down convertible and we had given ourselves lots of time.
We first located the arts center (which would have been next to impossible without my phone's GPS), then clicked on a new app I had recently downloaded — Around Me — and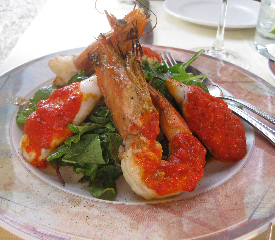 headed toward a restaurant listed that was about a mile away.
It looked a bit dicey. We tried again. On our way to the next Around Me option, we saw an inviting white-table restaurant with a professional-looking wait staff serving customers on an outdoor terrace, which is where we ended up, after also judging the second place by its look.
Luca was perfection in ambiance, food and service.
As we were perusing the menu, the waiter served bruschetta  with just the right amount of oil and garlic topped with fresh tomatoes.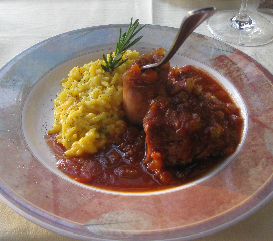 We started with Grigliatina di Mare – tender tubes of calamari and head-on Maya jumbo Shrimp grilled to perfection (AKA not rubbery) and served with a spicy tomato tarragon sauce ($15).
Although I generally eat Ossobuco alla Milanese in the winter, it sounded inviting… It was.  The tender braised veal shank was infused with fresh herbs and was served with Milanese-style risotto ($34). Delicious, especially washed down with a glass of Montepuliciano d"Abbruzzo, Avegiano 2003 ($9).
A bit pricey, but worth every morsel and worth the drive!
– bonnie
Luca Ristorante Italiano
142 Old Ridgefield Rd
Wilton, CT 06897-3036
.203.563.9550
www.lucaristoranteitaliano.com