Loi is cookbook author and TV hostess Maria Loi's eponymous Greek restaurant offering traditional cuisine with her personal twist – all in a quiet and spacious setting.  On the nights when she's there, Loi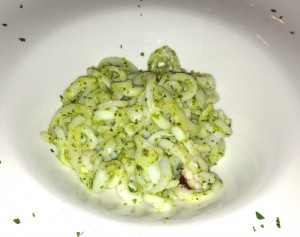 will stop by your table as she roams the room greeting patrons.
We nibbled the basket of warm grilled pita bread triangles and a corn-flavored biscuits along with a small dish of Greek yogurt drizzled with olive oil and some moist stuffed grape leaves as we looked over the menu. With that we tried a fabulously rich and full bodied Greek wine — Katogi Averoff 2008 Red (blend of Cabernet Sauvignon and Agiorgitiko, $65) from Macedonia — to accompany the meal. So good, I will seek it out in a wine shop.
Our appetizers included Kalamari Scharas ($14) – twists of grilled calamari sautéed in white wine, then drenched in a parsley, almonds and basil pesto; Garides Kataifi ($17) – grilled shrimp wrapped in crunchy strands of phyllo (kataifi)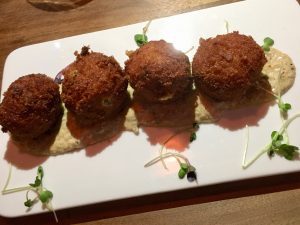 drizzled with pomegranate sauce; and the Htapodaki stin shara ($19) char-grilled octopus with red wine macerated onions all in a labolemono  (olive oil/lemon juice) sauce. I recommend all three.
Next we tried Yiouvetsi Thalassinon ($34) a mélange of sautéed seafood (shrimp, clams, scallops and mussels) in red wine tomato sauce topped with feta cheese; Maria's traditional moussaka ($24) — daintily sized — of eggplant layered with slow cooked ground beef and a topped with a light béchamel and graviera cheese; and the most classic Greek fish, Lavraki ($29), which I highly recommend. The whole grilled branzino (also know as European seabass) served with chopped fennel, leeks and the same labolemono sauce served with the octopus.
Loi serves great food with attention to detail in a quiet setting —and on the night we went — a pianist playing just loud enough to hear, yet not disturb.
– bonnie
Loi
Upper West Side
208 W 70th St
New York, NY 10023
(212) 875-8600