To thank my sister Shelly and niece Cindy for their hospitality, I wanted to take them to dinner. They only knew we were heading for a girls night out.
After much discussion, we selected Lido restaurant in Pismo Beach, where Cindy had been and raved about their service. That plus learning that the restaurant is committed to supporting local ranchers and farmers by using products sourced from California's Central Coast, made it the ideal choice. At least that's what we thought.
Our waiter Eric burst the bubble immediately. We ordered a local Central Coast wine. Thirty minutes later we finally received it. (And, I need to add that the restaurant only had four filled tables.) He then described the special entree as coriander-crusted halibut topped with crispy pancetta, served with lentils and asparagus.
"How much?" we asked.
Eric guessed, "I think about $30, just like the sea bass."
Having been burned by not asking the price, we asked, "Could you check?"
He disappeared again. At least this time we had our Justin Cabernet Sauvignon ($48) wine to enjoy. One glass of wine later, he reappeared.
"$28." A man of few words.
This time we gave our order before we lost him again. We started with a creamy chilled asparagus vichyssoise ($9) topped with Kendall Farms rich and almost lemon-flavored crème fraîche and an arugula, Fuji apple, and housemade duck prosciutto salad topped with a verjus vinaigrette, marcone almonds, sweet Spanish pequillo peppers and manchego cheese ($12).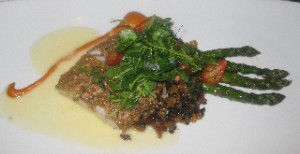 Eric served our entrees and disappeared. The halibut was lukewarm at best; it wasn't topped with crispy pancetta — instead the pancetta was the predominant ingredient (AKA overpowering) in the lentils.
The duck was perfectly cooked – fork tender topped with a not too sweet plum sauce. It was served with fresh baby bok choy, shiitake mushrooms, edamame and just enough-spice wasabi mashed potatoes. This dish made up for the halibut.


We kept looking for Eric to let him know about the fish, but he didn't reappear until it was time to clear.
We told him about the fish. He looked at us and just walked away without uttering a single word.
I couldn't resist completing the comment card that arrived with the bill. I chose to mail, not leave it. And I decided I couldn't have this mediocre experience be my "thank you." I'd try again the next day. (Stay tuned for that perfect meal!)
By the time I reached the east coast, I had an apologetic email from Edward Wright, the food and beverage manager asking me to give them another chance as this was atypical. I called, we talked — and decided same time next year when going back to the sustainability conference at Monterey Bay Aquairium, we'd try it again.
Dolphin Bay Resort & Spa
2727 Shell Beach Road
Pismo Beach, CA 93449
805.773.4300