Chuck Perley — a SoHo restaurateur resembling Karl Malden — opened Le Pescadeux, the French seafood bistro last August on Thompson Street, nestled between Prince and Spring.  Last month at a press dinner, I sampled much of the menu.
We started with  Le Pescadeux's raw bar including mackerel ceviche, fresh oysters and baby octopus salad in a balsamic vinaigrette served with a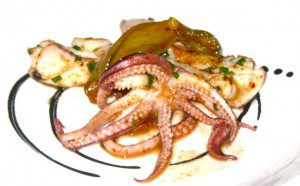 Peller Estate Riesling (2007, Niagara, Canada). Next the roasted calamari with picante piri piri sacue ($12) with Maison Nicolas "Reserve" 2008 (Pays d'Oc, France), followed by Walleye pike "Gnocchi, with organic turnips with a Pinot Gris, Four Graces "Estate" 2008 (Willamette Valley).
Perley's classic "Fish Duets" – two  half-orders of different fish done two different ways – arrived next. Ours included a crisp Atlantic dorado royale over a fennel puree and Grank Bank flounder with a fried oyster hat and a bearnaise sauce. A Macon Milly-Lamartine 2009 (Burgundy, France) accompanied the duet. At the restaurant you can choose two half orders of any of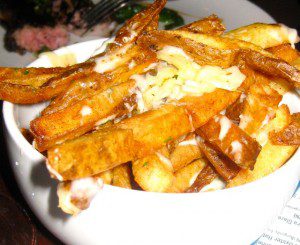 the signature seafood options including the two we sampled or the Walleye Pike "Gnocchi," with Organic Baby Turnips and Lardons, wild bass with a port reduction, roasted cod with a red pepper coulis or soft shell crab with spicy mano! Great for all of us who can't make up our minds!
My favorite dish of the evening was the cooked-to-perfection Lamb Porterhouse (I'm a lamb lover!) with a madeira glaze and sauteed escarole. Not that I had any room, but we also sampled fries covered with pepper jack cheese. Irresistible.  A Zweigelt, Hans Nittnaus 2007 (Burgenland, Austria) worked wonderfully with the lamb.
Le Pescadeux
90 Thompson Street
New York, NY 10012
www.lepescadeux.com
(212) 966-0021