Because of Liz and Dick, Le Périgord was able to stay in business. (For you you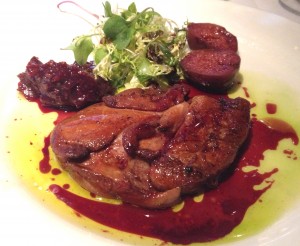 ngin's that's Elizabeth Taylor and Richard Burton!)
George Briguet was struggling to keep his new classic French restaurant open when a photo of Liz and Dick leaving the restaurant appeared in the New York Post. Then, everyone wanted a reservation as — the day after the photo appeared — Le Perigord became the place to be seen.
This French establishment still does things the old fashioned classic way, just as it did in the 60's when it opened.  Service personal do tableside filleting and flambéing, while fresh-cut roses and Limoges plates are on every white-clothed table.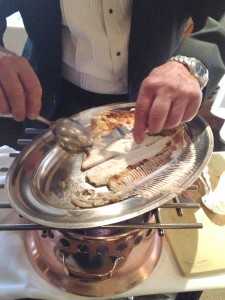 As his guest, we selected a tender artichoke vinaigrette and the Pate maison et celeri remoulade (house pate with shredded celery root in mustard mayonnaise) from the prix fixe lunch menu options. And  my favorite, the Foie gras chaud aux  fruits de Saison (warm foie gras with seasonal fruits, $26.00) from the ala carte offerings. The chilled Perrier Jouet bubbly went well with each dish.

Next, we watched the waiter skillfully bone the Sole Anglaise grillée avec sauce moutarde (Dover sole, grilled and served with mustard sauce, $45). He then boned and flambéd our Canard rôti aux fruits de Saison (roasted duck with seasonal fruits).  We also shared the Le saumon roti sauce Aurore au safran, garniture provençale aux herbes fraiches (roasted salmon with lemon saffron sauce, provençal style vegetables and fresh herbs).
We didn't clean our plates, as we had seen the "temptation trolley" when we first arrived. That dessert cart includes many timeless French favorites: Tarte tatin, chocolate mousse, floating islands and fruit tarts. We sampled most all of them. My recommendation is the rich decadent chocolate mousse.

If you can take the time, I recommend going for the incredible valued ($32) prix fixe lunch!
– bonnie

Le Périgord
405 E 52nd St
New York, NY 10022
(347) 508-4639
leperigord.com