There's nothing more idyllic on a perfect-weather spring day than to wan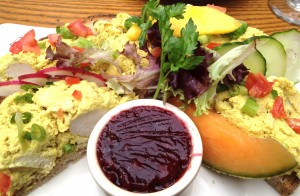 der around Central Park. I did so recently … and we stopped for an alfresco lunch at Le Pain Quotidien within the park.
Luckily our stomachs growled early, and we were seated by 11:30. The manager shared that if we came later we might have had a 45-minute wait for one of the outdoor tables behind the restaurant.
While perusing the menu, we sipped on mimosas ($7).  We shared one of their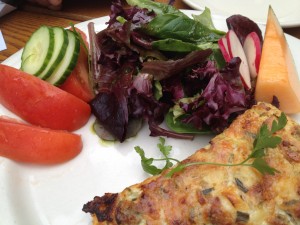 signature  Belgian open-face sandwiches on organic wheat bread — a tartine of chicken curry salad with a side of harissa cranberry chutney ($10.95), hearty at the 590 calories the menu listed.
We also shared a delicate (yet 620 calorie) Quiche Lorraine with ham, swiss and leeks on a whole wheat crust with a side of lightly dressed organic mesclun ($11.95) garnished with cantaloupe, tomato wedges and cucumber and radish slices. The food was good, the setting spectacular.
While walking the park I found a brochure offering an audio guide, where you dial and discover details about the park from your mobile phone by either the Central Park app ($1.99) or by dialing 646.862.0997 and then the extension followed by # and the number that is listed on the brochure or on little green signs near each attraction.
The short messages you'll hear are each recorded by a voice you may recognize including: Anne Hathaway, Jerry Seinfeld, Sarah Jessica Parker and 37 well known New Yorkers and movie stars. I've included a photo of the brochure for you. Or you can pick one up when walking the park!
– bonnie
Follow @BonnieBOTB

Le Pain Quotidien
Central Park @ W 69th St
New York, NY 10023
(646) 233-3768
lepainquotidien.com