There aren't enough superlatives for Le Bernadin, the internationally acclaimed four-star seafood restaurant. It is — for sure — the special occasion place to dine in Manhattan.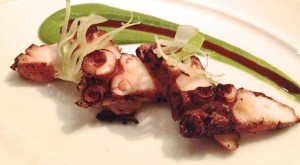 For those who haven't had the pleasure, the restaurant offers three menu options  — two tasting menus with or without wine pairings (a 7-course $155 per person – $246 with wine pairing per person; an 8-course $215 per person – $360 with wine pairing per person), and one price fixe 4-course menu ($135). The only requirement, says the waiter … is that the entire table must agree on one option. A little confusing at first, but the wait staff is patient and accommodating, explaining everything with the finest of detail.
Le Bernardin received its four-star review from The New York Times only three months after opening and is the only New York four-star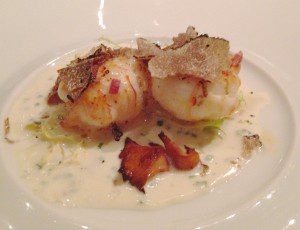 restaurant that has maintained its status for more than 20 years. It also won many James Beard Awards ("Outstanding Restaurant" in America, "Outstanding Chef," "Outstanding Wine Service," and "Best Restaurant Design."), and received the highest rating (3 stars) from the The Michelin Guide. The list of accolades and awards goes on and on.
This night I was there, my table opted for the 4-course menu, the final course is a dessert that a green salad may be subsituted.  Almost everything was perfection. I selected the charred octopus "a la plancha" garnished with a green olive and black garlic emulsion, and a sun-dried tomato sauce; the seared New Zealand langustine, seared finished with creme fraiche, with chanterelle mushrooms and Jamón ibérico, and the wild striped bass over Bhutanese red rice and a green papaya salad with a ginger-red wine sauce. The bass was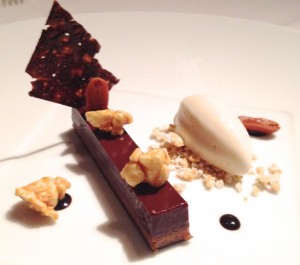 wonderful, until I got about half-way through it and then strangely, it was horribly "fishy." The staff immediately offered to replace it, but by that time I was full and just left that fishy fish on my plate. I wanted to save a smidge of room for dessert. I was glad I did so I could indulge in the dessert plus the extra plate of treats that included a decadent cinnamon caramel bonbon, chocolate fudge with sea salt, passion fruit macaroon, and fig and muscovado financier!
Julio (our wonderfully attentive and knowledgeable captain) also served us an extra dessert, I figured as a nice gesture because of my fishy bass. The Madagascan chocolate ganache, with candied peanuts and popcorn ice cream was worth the indulgence.
Le Bernadin is dining how dining should be. I highly recommend it for your next splurge!

– bonnie
Follow @BonnieBOTB

Le Bernardin
Midtown West
155 W 51st St
New York, NY 10019
(212) 554-1515