For delectable Italian-inspired cuisine head to L'Artusi in the West Village.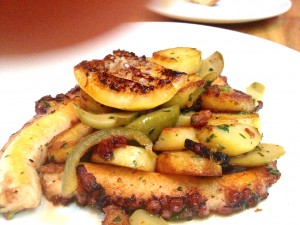 We sat upstairs, which was quieter than the bustling bar area. I started with a crisp Verdicchio Dei Castelli di Jesi, Andrea Felici 2011, Le marche ($13).
Don't miss the tender charred octopus ($18) served with grilled potatoes, peppers and olives, given saltiness and a little kick from pancetta and chilies. Loved the side-sliced warm grilled lemon sans seeds to squeeze over the fish (notice in photo on top of dish).
I found the vegetarian garganelli with mushroom ragu and grated rico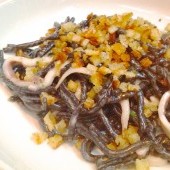 tta salada ($17) earthy and ordinary. I much preferred troife nero ($18), the night's zesty special of squid ink infused housemade spaghetti with braised octopus,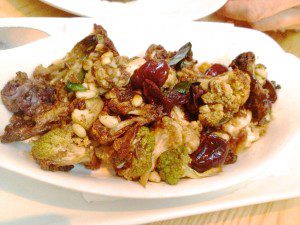 bread crumbs, butter, black pepper, chile flakes and  grated pecorino romano ($18). (Yes, yes, I do love octopus!)
I also recommend the side of cauliflower of the white and green (Roman) veggie seasoned with anchovy, olives and pine nuts  ($8).
We ended with a seasonal not-too-sweet blueberry crisp (oatmeal-almond streusel) with ricotta gelato ($10).
I do recommend L'Artusi!
– bonnie
L'Artrusi
West Village
228 W 10th St
New York, NY 10014