The first thing I discovered as I sat down at La Silhouette is that chef Matthew Tropeano loves butternut squash. Tropeano — who had been awarded 3-stars from New York Times' critic Sam Sifton while at La Grenouille — offered that eponymous veggie twice in his amuse-bouche: one a creamy soup, the other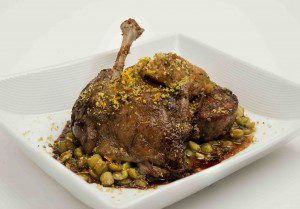 cooked squash puree served on a toasted baguette, sprinkled with crumbled goat cheese and chives. Both certainly tickled our palates!
I had been invited as a guest of the the restaurant where I had been for breakfast but not dinner. My mouth watered as I looked over the menu. I began with the slow-poached heirloom egg on a leek tart with bacon, surrounded by frisee and with a tiny drizzle of truffle oil ($14).  It was good, but my dining partner picked the better selection of duck confit ($14) — with succulent duck and sliced garlic sau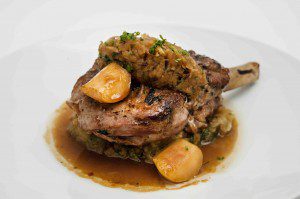 sage over green lentils, topped with shredded rutabaga and sauerkraut. This could have been a meal in itself. And is not to be missed!  We washed both down with the 2010 Macon-Solutre, a crisp, affordable, unoaked 100 percent Chardonnay from Burgundy ($50).  An enjoyable wine, which is saying a lot, as those who have dined with me know that I'm generally ABC, anything but Chardonnay!
My sea bass with lobster ($39) had too many elements as it was served with a butternut squash "risotto" (not the traditional rice dish, but diced butternut squash again, this time cooked al dente) all in Lillet-vanilla beurre blanc. That's a sauce where the chef used vanilla-infused Lillet instead of the traditional white wine in his beurre blanc. A bit too much going on.
But another not-to-be-missed dish is his amazing huge Berkshire pork chop that's brined before cooked it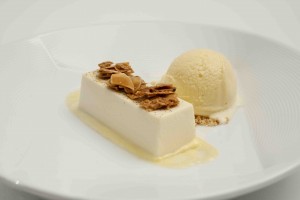 to perfection — still pink and juicy. The chop comes atop spaghetti squash, topped with Lady apples, rutabaga and sauerkraut all in a Calvados-spiked jus ($30). Perfection.
We were thrilled that we had saved room for the decadent Mocha Semifreddo: a house made brownie with a scoop of  ice cream and swirls of Bailey's caramel sauce. Also good is the Meyer lemon-vanilla panna cotta with candied almonds and Amaretto ice cream (each $9). Be sure to come hungry.
I highly recommend trying La Silhouette.
– bonnie

La Silhouette
362 West 53rd Street New York, NY 10019
la-silhouettenyc.com/
(212) 581-2400