While perusing the tapas menu at La Fonde Del Sol at lunch, we asked for the day's special tapas to nibble while we decided on the rest.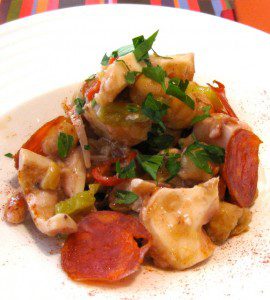 That special octopus was perfection — nicely seasoned, perfectly cooked and combined with sliced spicy chorizo and mild garbanzo beans ($9).
We ordered some additional selections that included sliced Iberian Serrano Ham, aged 18 months ($12.50), Manchego Cheese Croquetas ($8) serve with membrillo (quince), and — the only tapas I wouldn't recommend as the crust was very doughy and unpleasant but the beef inside was tender and well seasoned —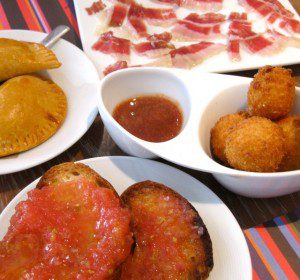 Beef Empanadas with a chimichurri sauce ($8.50).
The kitchen accidentally sent an order of Pa Amb Tomaquet ($3) — toasted bread with crushed tomatoes, fruity olive oil and sea salt, which was the perfect accompaniment to the ham.
– bonnie
La Fonda del Sol
MetLife Building (at E.44th Street and Vanderbilt Avenue)
New York, NY 10166
212.867.6767