When you need a quick affordable bite after you've spent too much money on Fifth Avenue, stop in at La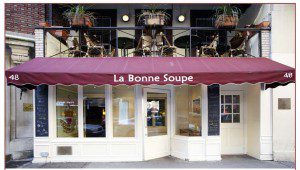 Bonne Soupe, a dependable French bistro.
Yes, there is soup on the menu — I hear the onion soup is wonderful — but I stopped by for brunch.
Their  les omelettes French style ($12.95) are served with a small salad with a garlicky dressing. My omelette paysanne  was filled with onions, ham, potatoes and parsley. I also ordered a serving of their thin, crispy pommes frites ($4), with the excuse that the restaurant has a $15 minimum a person, and my omelette didn't quite cover that. (Any excuse to eat fries!). 
I returned another time and tried their perfectly cooked lamb burger with goat cheese and — you probably guessed — pommes frites on toasted brioche bun with lettuce, tomato, red onion and harissa mayonnaise,! I say perfectly cooked as I ordered mine medium rare, my dining partner ordered medium and we each got what we asked for.
On nice days — see if you can be seated on one of the four tables (visible in the photo) on the balcony of the second floor to dine alfresco!
Service wherever you sit is attentive.

La Bonne Soupe
48 W 55th St
New York, NY 10019
(212) 586-7650
labonnesoupe.com