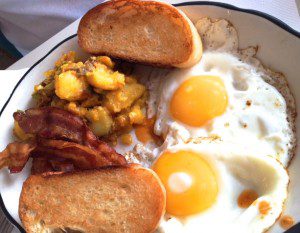 Walking around downtown Montauk, we noticed a welcoming diner-like restaurant just off the Plaza.
We learned that La Bodega had just opened  Memorial Day weekend and serves Puerto Rican fusion cuisine in a laid-back environment. The restaurant offers breakfast all day, including traditional items like French toast and waffles, plus a Dogman's Bowl, with apple juice, acai, banana and honey ($8.50).
My friend ordered 2 fried eggs with home fries and bacon ($8.50).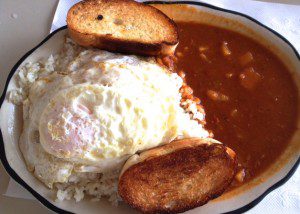 I was a bit more adventurous selecting Huero Caballo, two eggs over easy on top of Puerto Rican rice served with beans and Los Cinderinas bread ($8). The lightly spicy beans contained diced potatoes. A nice touch to a hearty breakfast.  I ordered the latter and enjoyed that along with a cup of Café la Casona, an imported Puerto Rican coffee. Service is friendly and efficient.
If you're visiting Montauk, I'd recommend stopping at La Bodega, but before doing so visiting Montauk Point Lighthouse and museum, with the oldest lighthouse in the state. A lighthouse that was authorized under President George Washington in 1792! Walk up the 137 steps to a spectacular view at the top to build up an appetite for this hearty breakfast.
La Bodega
752 Montauk Highway
Montauk, NY
631.668.8338

from empanadas to a classic turkey club, and good drinks from an espresso to milkshakes.