TIDBITE
November 9, 2012
I was passing through Mystic, Connecticut and decided to stop at Kitchen Little, a tiny stand-alone house that was just a few yards from the entrance to the Mystic Seaport.  Many years ago I had shared my love of the breakfast place by writing about it in both The New York Times and in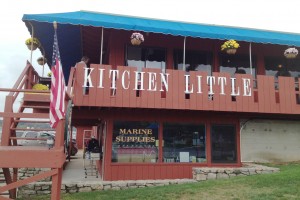 Yankee Magazine. And whenever we were nearby when the boys were growing up, they insisted we stop for owner Flo Klewan's unusual and hearty breakfasts.
Kitchen Little isn't so little anymore!  The restaurant relocated near the Mystic River Marina and some days offers three meals a day. You can even have wine and beer.
At the original location, I often had a long wait to get one of the few tables. No lon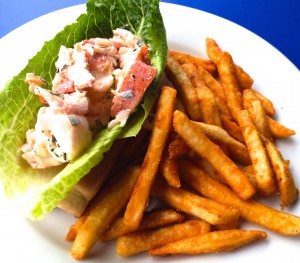 ger – we were seated outside on the deck and only a couple tables were even occupied.
I can't report on breakfast, as we opted for the lunch menu.  Flo's famous Rhode Island clam chowder with lots of  fresh clams ($5.95 per bowl) was as good as she boasts.  Her fresh seafood sandwiches come with lots of crispy fries but are a bit skimpy on the native seafood said to be from the local Stonington Town dock. We sampled the fresh lobster roll ($15.95), the lump crabmeat ($10.95)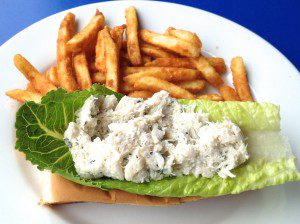 and a sea scallop roll ($9.95 for 4 scallops) each on a small top-split hot dog bun. The seafood in the two chilled sandwiches was nestled in a small romaine leaf.
It's still worth the stop, although not as convenient a location.
Kitchen Little
36 Quarry Rd
Mystic, CT 06355
(860) 536-2122
kitchenlittle.org
Leave a Comment
Posting Policy
Bite of the Best encourages our readers to comment on and review any products that we write about. Please express your opinions in a mature and civil tone of voice. We will not post rude or otherwise inappropriate material on Bite of the Best. We look forward to your comments and reviews!