Met some friends downtown for a midday nibble at Kelly's Restaurant & Bar in the former Amalfi Grill (and short-lived) Marius on the corner of Crown and Temple just up the street from the Criterion (BowTie) Cinemas.
While looking over the menu we tried their Cucumber Bloody Mary with a pronounced flavor came from the Crop cucumber vodka ($8). Nice.
The kitchen 86ed my first order of goat cheese croquettes. After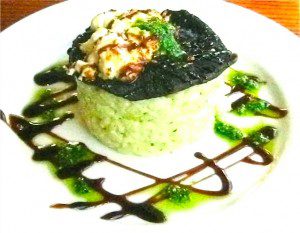 sampling the artfully presented creamy risotto cake ($6.95) topped with a thin Portabella mushroom and basil infused goat cheese (with some pesto drizzled, too), I know I'll return. This dish alone is worth the visit.
(In restaurant-speak, 86 means the to run out of something in the kitchen…)
We also sampled the Crown St. Chicken sandwich rubbed — a cooked chicken breast rubbed with Cajun spices and topped with Cheddar cheese on toasted baguette spread with chipotle aioli ($8.95) accompanied by steak fries. That was good, too.
Great place to stop for a bite after a movie!
– bonnie
Kelly's Restaurant & Bar
196 Crown Street
New Haven, CT 06510
(203) 776-1111
kellysnewhaven.com