My last supper. Well, not exactly – but my last meal on Kauai before I headed back to the mainland.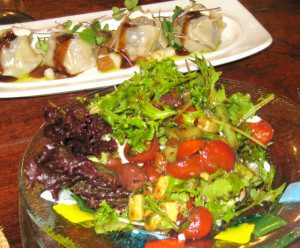 We decided to have a leisurely early meal at Josselin's Tapas Bar & Grill and then head directly to the airport in Lihue to check in to my evening flight to LAX. We opted for the communal table, and were so glad we did as we ended up sharing food and meeting new friends.
Although it may sound as if we overate – we really didn't! We just sampled everyone else's small plates (AKA tapas) as they did ours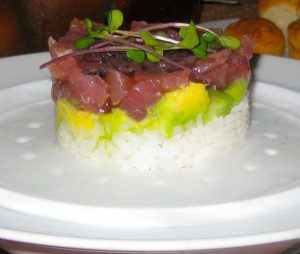 .
Loved most everything — the only disappointment of the entire array of tapas we sampled were the slightly overcooked Poached Pork Dumplings served with a chili pepper creme fraiche ($10). But the Roasted Feta salad ($11) more than made up with that with roasted cheese, charred tomatoes, olives, avocado and baby greens.
The steamed Kauai Shrimp and Pork Shumai with diced Asian pear and spicy eggplant vinaigrette were delicious although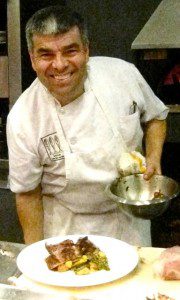 I wished he had added more of the eggplant vinaigrette! ($9).
My seatmate to the left enjoyed a deconstructed Ahi Roll (ahi, avocado and cucumber, with sushi rice) that was kept icy cold by the dry ice below the perforated plate ($14) and the new friends across the table shared Burrata Crostini with roasted bell pepper tapenade and Spanish ham ($10).
Our 36 Hour Braised Pork Belly is the dish not to be missed — tender and succulent with a bit of apple kimchee, flavored with thyme, orange and local Lehua honey ($21).
Ah, we were stuffed, but the rest of the table ordered dessert (each $8), so we indulged in Buttermilk Panna Cotta, Dark Chocolate Flourless Cake topped with vanilla ice cream & bananas foster and Macadamia Profiteroles filled with homemade pepperm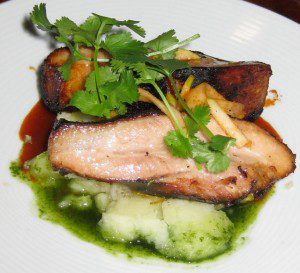 int ice cream and served with a rich chocolate sauce. (Note to self: make this at home!)
The chef Jean Marie Josselin has received recognition from prestigious culinary institution for his innovative culinary style and use of fresh, organic ingredients. The James Beard Foundation nominated him for "Best Chef of the Northwest,"  while Bon Appetit and Conde Naste Traveler magazines named his former restaurant A Pacific Cafe as one of the best restaurants in the country.
At Josselin's Tapas Bar & Grill, Jean Marie introduces dishes inspired by flavors from around the world, all served Tapas style.  A place not to be missed if you're on Kauai. And if you get the chance be sure to sit at the communal table!
– bonnie
Josselin's Tapas Bar & Grill
Kukui'ula Village Shopping Center
2829 Ala Kalanikaumaka St.
Poipu, Kauai, HI 96756
808-742-7117