CITY EDITIONS
January 8, 2009
With a long layover between our flight from Miami and our flights home, we hopped into a cab heading to Joe's Stone Crab in South Beach for a mini-vacation lunch instead of hanging at the Admirals Club.
Joe's doesn't take reservations. But with 9 hours between our flights, we had no qualms about a long wait for our meal. But we learned the secret to getting into Joe's without waiting. Go for lunch on a sunny day!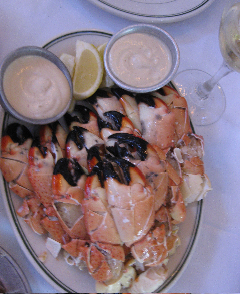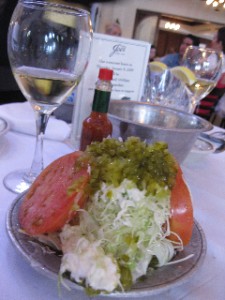 This Miami institution was established in the early 1900′s when purportedly Joe Weiss  discovered this local crustacean and began to offer them quickly boiled, chilled and served with a mustard sauce. They still do.
They're sweet, clean tasting, succulent and quite pricey: $32.95 for 7 select-size claws (a double order pictured)!  Although the claw were yummy, the "mustard sauce" tasted more like a blend of mayo and ketchup,  devoid of the eponymous condiment. A Martin Codax Albarino perfectly complemented the crustaceans.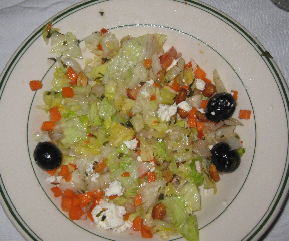 Along with the claws we sampled crispy conch fritters, a mix-it-yourself vinegary coleslaw and an old-fashioned chopped salad of iceberg, carrots, feta and canned black olives (how odd!)  in a light vinaigrette. We ended with a shared decadent piece of key lime pie, all fighting over the graham cracker crust.
Joe's Stone Crab 11 Washington Avenue, Miami Beach, FL  305.673.0365
www.joesstonecrab.com, open during stone-crab season (October to May)
3 Comments on "Joe's Stone Crab"
silverbele Says:


Great giveaway!

malleycc Says:


Like all restraunts in South Florida Joe's is not as busy as it used to be. I'm glad you liked it, I live in Ft Lauderdale and try to get down there once a year at least. Great food and now you can take out if you don't have a 9 hour delay you can still make it.

Helene Burton Says:


Joe's Stone Crab shipped a complete dinner quickly and reliably, including bibs,a wooden mallet, stainless forks,sauce,coleslaw and the most delectable key lime pie ever. Just forget about that coleslaw! It's inedible.
Otherwise, we enjoyed this expensive but welcome treat on a cold winter night.
winter evening.
Leave a Comment
Posting Policy
Bite of the Best encourages our readers to comment on and review any products that we write about. Please express your opinions in a mature and civil tone of voice. We will not post rude or otherwise inappropriate material on Bite of the Best. We look forward to your comments and reviews!