With a long layover between our flight from Miami and our flights home, we hopped into a cab heading to Joe's Stone Crab in South Beach for a mini-vacation lunch instead of hanging at the Admirals Club.
Joe's doesn't take reservations. But with 9 hours between our flights, we had no qualms about a long wait for our meal. But we learned the secret to getting into Joe's without waiting. Go for lunch on a sunny day!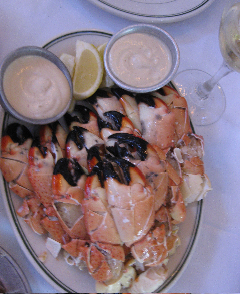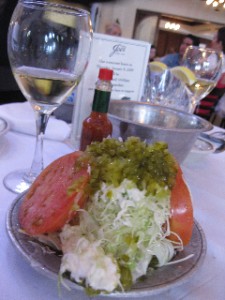 This Miami institution was established in the early 1900's when purportedly Joe Weiss  discovered this local crustacean and began to offer them quickly boiled, chilled and served with a mustard sauce. They still do.
They're sweet, clean tasting, succulent and quite pricey: $32.95 for 7 select-size claws (a double order pictured)!  Although the claw were yummy, the "mustard sauce" tasted more like a blend of mayo and ketchup,  devoid of the eponymous condiment. A Martin Codax Albarino perfectly complemented the crustaceans.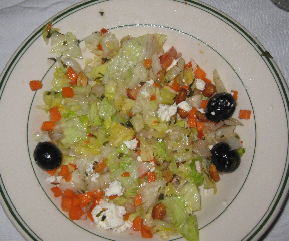 Along with the claws we sampled crispy conch fritters, a mix-it-yourself vinegary coleslaw and an old-fashioned chopped salad of iceberg, carrots, feta and canned black olives (how odd!)  in a light vinaigrette. We ended with a shared decadent piece of key lime pie, all fighting over the graham cracker crust.
Joe's Stone Crab 11 Washington Avenue, Miami Beach, FL  305.673.0365
www.joesstonecrab.com, open during stone-crab season (October to May)