Although lots of people love dining at Jeffrey's, I'm not one of them. The service is good, the food not bad — it's just that the chef tries too hard.
The perfect way to describe Jeffrey's entrees is with the Yiddish word "ungapatchka," — busy, over-done with excessive elements. With so many ingredients, the flavor of each gets lost.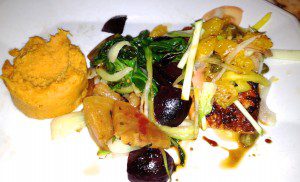 First, let me back up to our appetizer. We shared a braised chicken quesadilla ($11) with black beans and melted mozzarella served with salsa, guacamole and creme fraiche. Plebeian. Skip this.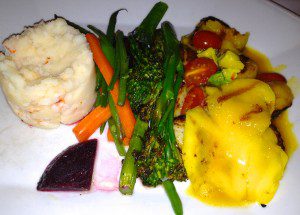 My pan-seared artic char (See if you can find it in the photo!) was tender and succulent ($28.50).  It was served over "apple & orange fennel and caper relish," with mashed sweet potatoes, stir-fried bok choy, spinach and beets (golden and red) all in an orange ginger sauce containing huge, thick slices of fresh ginger.
The sea scallops came two ways: one herb dusted and the other pan-seared. They wereserved with grilled mango, braised cherry tomatoes, carr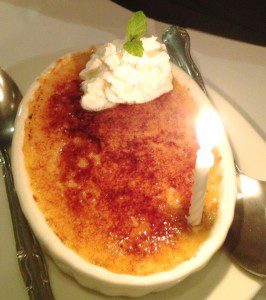 ots and other veggies in a  passion fruit buerre blanc with lobster and truffle oil infused whipped potatoes ($27.50).  Neither the lobster or truffle flavors were apparent in the potatoes. What a waste!
The only word for both entrees: ungapatchka
Their creme brulee — crusty on top, creamy underneath — is perfection! At least we delighted in a sweet ending.
Jeffrey's Restaurant By Claudio
501 New Haven Ave
Milford, CT 06460
(203) 878-1910