We heard about the recently opened Ivy Bistro Noodle in Science Park at a New Haven Chamber of Commerce after hours networking event and decided to give it a try.
The Sesame Wontons in Hot Oil are worth the trip, with pork-filled, soft dough in a not-too-spicy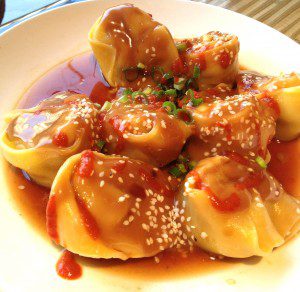 peanut sauce sprinkled with sesame seed (8 for $4.75).  I didn't like the Crab Rangoon as much as the crispy fried dough came filled with a pocket of creamy imitation "crab" served with traditional Chinese "duck" (AKA sweet and sour) sauce.  Faux is not my cup of tea. Oh, speaking of tea, that wasn't offered.
We also shared the Singapore Mai Fun a mixture of meat, shrimp and some fish with skinny rice noodles. Also available as Chow Fun, wide noodles ($7.25). Although this was purported to be spicy, it wasn't.
Bring your own libations, as we and the other customers did, making this even more of a bargain. Ivy Bistro Noodle is open only Monday through Friday from 11 am until 9 pm in Science Park area of New Haven. Give it a try!
– bonnie
Ivy Bistro Noodle
302 Winchester Avenue
New Haven, CT 06511
(203) 624-1888