A few weeks ago I discovered Indigo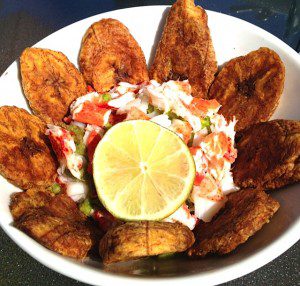 when looking for a place by water to get a drink after a day at the beach! (That was about a month after it opened) Their mighty big refreshing and inexpensive (well compared to NYC) drinks come in32-ounce mason jars. The Margie is only $8, and the Mojito $10.
Since then I've been back from those same drinks again — but this time with an app –  a dip with mashed avocado topped with fresh lobster (and lots of it) served with fried plantain slices. Rich, and creamy – I just wish the plantains were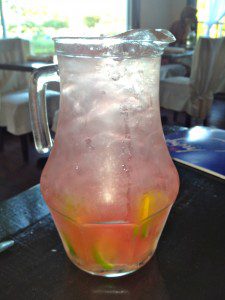 thinner! ($15).
I returned for dinner with a group of friends. All the food was well seasoned, cooked, and presented. The only disappointment was the pitcher of "white" wine sangria – that was pink and mostly ice ($32).  Skip that for sure and get one of their specialty drinks!
For entrees we sampled, the Japanese glazed salmon ($22) in a soy-sesame sauce, served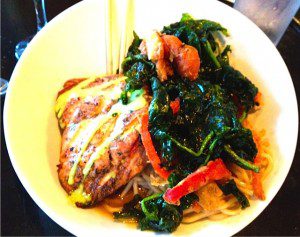 with soba noodles, deep-fried crispy spinach and drizzled with ginger wasabi aioli. I recommend highly!
One of us had the Surf (grilled lobster) & Turf (a braised short rib in lieu of steak), with garlic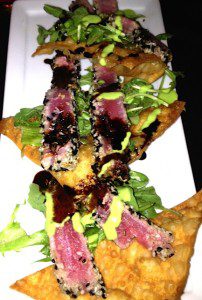 mashed potatoes ($25) and grilled zucchini; another had a huge glazed grilled pork chop ($17) in a sweet and spicy sauce, served with Tuscan-style white beans, cherry peppers, chipotle mashed potatoes and grilled zucchini. And another simply had the seared sesame-crusted composed tuna tacos ($12) over  lettuce, tomatoes, with a balsamic reduction and a wasabi drizzle.
And, then I returned again with another friend, this time to sample their brunch menu. We had planned on sharing an order of breakfast nachos ($9) and a shrimp & chorizo omelette ($9) with spinach and roasted red peppers accompanied by a gazpacho shot and home fries.
We each started with half a portion of fresh crisp tortilla chips topped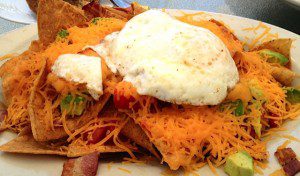 with diced avocados, diced tomatoes, chopped bacon and shredded cheese and then an over easy egg. (Yes, the photo to the right is a half portion!) Problem was they were so huge (and yummy), we couldn't even finish half a portion. We cancelled the omelette, deciding we'd have to come back again!
I highly recommend Indigo for brunch, lunch, dinner or just drinks on the deck overseeing the water! They do not accept reservations.
– bonnie
Indigo
1 Schooner Lane
Milford, CT 06460
203-882-1999
indigobythewater.com