Looking for a spot to grab a bite after attending an event at City Center, consider Il Corso, a small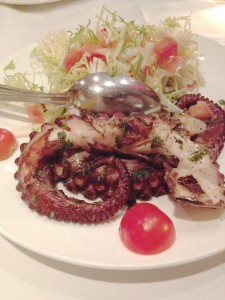 trattoria with decent food and service about a block away.
That's exactly what we did. We started by sharing the tender, but watery, generous serving of popilp ala griglia ($19.50), accompanied by a light frisee and cherry tomato salad.
For our main course, one had Il Corso's traditional lasagne all'Emiliana ($20) that arrived almost room temperature and needed reheating; another tried the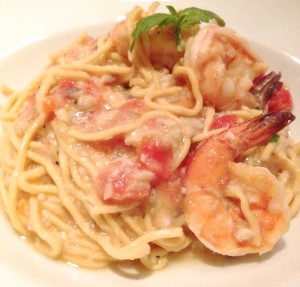 Chitarrucci all"Astice – or spaghetti with lobster and cherry tomatoes in a brandy bisque sauce ($23.50); while two sampled the night's special of a tasty pasta with a white fish ragu made with branzini, orato and swordfish in white wine, topped with shrimp ($25). All were fine, nothing exceptional.
Always looking for a decent wine about $50, we ordered the 100% Sangiovese Castello di Bossi 2009 Chianti Classico ($45), with a rich dark plum and black cherry nose. A wine I'd recommend.
– bonnie
Il Corso
Midtown West between 5th and 6th Ave
54 West 55th Street
New York, NY 10019
(212) 957-1500