Ignacio Blanco has done it again — this time offering a dining spot with fabulous Spanish tapas in the New Haven suburb,  Hamden, CT.
You may have read about or tried Blanco's food elsewhere. He first opened Meson Galicia tur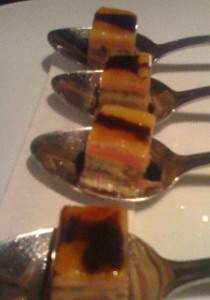 ned Meigas in Norwalk, then Cafe Pikas Tapas turned Ibiza in New Haven.  The two Connecticut places have been described by more than one food writer as the best Spanish food not in Connecticut, but in the country. We're talking innovative Spanish food like you'd find in Barcelona, Malaga, Seville and other Spanish cities.
I had heard about — but missed — the opening of Ibiza Tapas Wine Bar and Cafe last month, as I was busy leading the Arts & Ideas Festiva restaurant tours in New Haven.  So last week after the movies, looking for a place to get a nibble, I remembered Ibiza Tapas Wine Bar and Cafe.
We called.
They were open and served until 11 pm. Not quite the hours in Barcelona, but seriously late for Hamden, CT. I was thrilled.
After I arrived, Ignacio Blanco and I began talking food, as I asked about his menu tapas favorites.
"Can I just cook for you?'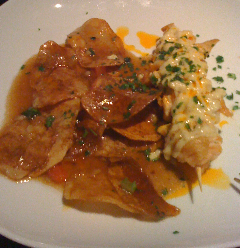 Music to my ears, I thought as the food he chose began coming from the kitchen.
We started with a smooth and creamy gazpacho ($5.50) served in a martini glass. Made not only from pureed cucumber, onion, bell pepper and tomato, but also from ground pignolis, olive oil and sherry wine vinegar topped it with a few crispy croutons. I was wondering what gave the cold soup the light spicy kick when course two: a tomato-based shrimp and scallop ceviche ($8.75) was served. Delicious although, this serving had way too much broth for the amount of seafood. The citrus-and-tomato marinade — although too plentiful  — was perfectly seasoned.
Not having planned to write-up a restaurant, the only food photos I could take were with my iPhone. At least, I th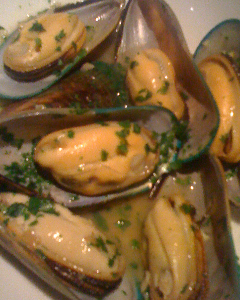 ought, I'd have something to share on the blog…Next time I'll bring my digital and get better photos!

As we were discussing my photo dilemma, Ignacio – an adorable cherubic man bearing a smile from ear to ear — brought out four stainless steel spoons each filled with a one-inch cube our next dish. Something not on the menu. Salt-cured tuna, smooth and creamy foie gras mousse, crispy caramelized mango drizzled with a balsamic vinegar reduction.  One bite and the textures and flavors hit all the senses  at once like fireworks in my mouth. A heavenly explosion.
The chicken and chorizo brochette ($7.75) with cumin aioli was flavorful, but a tad overcooked. Served alongside the skewer were once-crisp homemade potato chips swimming in a white wine, garlicky smoked paprika sauce so delicious that we scooped up each an every last drop.
I thought I had room for nothing else when the server delivered a marinated and grilled pork loin ($8.75) with tetilla cheese, scallions in a Romesco sauce (roasted red pepper and ground almonds) over Galician toast.
Humongous Prince Edward Island mussels arrived next, having been steamed in Albarino wine with garlic, parsley and shallots ($6.75). We tried our best, but just couldn't finish.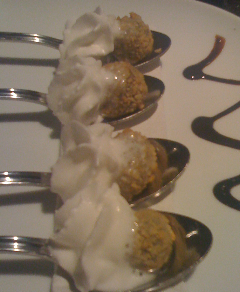 "Uncle," I had uttered,  but don't think it translated well.
Dessert was next.  Four spoons, each filled with one-bite of the dessert,  served as I'd had at Meigas (but in  porcelain spoons, not stainless). That's bite-size almond-crusted croquettes over a cube of lemon gelatin on a spoon, topped with coconut foam ($6.50 for four). As you bit into the croquette, it oozed  warm chocolate.  Like the starter, the spoonful was meant to be consumed in one bite so that the flavors exploded in your mouth in a hedonistic experience.
I, for one, am thrilled to have Ignacio's new place in my neighborhood. Mighty thrilled.
Ibiza Tapas Wine Bar and Cafe
1831 Dixwell Avenue, Hamden, CT 06514
203.909.6512