Ignacio Blanco always sports a smile. And he should, as he has another hit restaurant:  His new no-reservations tapas and wine bar across from Home Depot in Hamden, CT. It's easy to drive right pa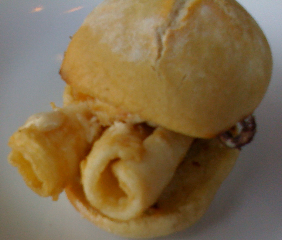 st it on Dixwell Avenue, as there's no real sign — just a the painted side of the building.
But that hasn't stopped the crowds from coming. The restaurant is buzzing no matter what time or what day you go. They begin serving at 5 pm and continue until 11 pm.
Lucky for me, it's almost walking distance from my home.
I just can't stay away.
After my first visit when Ignacio asked to cook for me, I learned not to even look at a menu. Whenever I go, I just ask him to bring food. I've never been disappointed – even when I've been with friends with dislikes or dietary restrictions. He handles that with ease!
One recent visit, he served me a calamari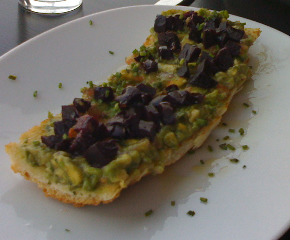 slider, with two very tender squid bodies placed side by side, topped with the tentacles on the aioli-spread bread.
Another fabulous – yet oh, so simple dish contained toasted bread spread with garlicky olive oil, then topped with diced avocado and beets. Yes, beets. It was simply superb. I made a mental note, as I know I'll try it at home.
Two other delicious tapas included slices of fresh chèvre drizzled in truffle oil on toasted baguette, and tapenade-topped anchovies on cri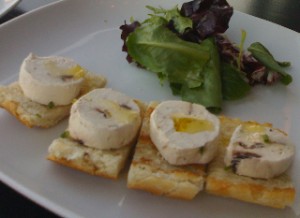 sped bread.
The food kept coming until I begged him to stop, as I was stuffed, but knew would eat more if he brought it. Yes, it's that good.
If you live anywhere near Hamden, CT or are visiting in the area, don't miss this experience. You might actually find me sitting there with friends, cause lucky me – this is my new neighborhood restaurant.
And when you go tell Ignacio that I suggested that you skip the menu and just ask him to just cook for you. It's an experience you won't forget.
– bonnie
Ibiza Tapas Wine Bar and Cafe
1831 Dixwell Avenue
Hamden 06514
203.909.6512