Hillstone (formerly Houston's) in the Citicorp building on 53rd Street is the newest addition to the eponymous restaurant group operating casual upscale dining with an interesting menu of American classics.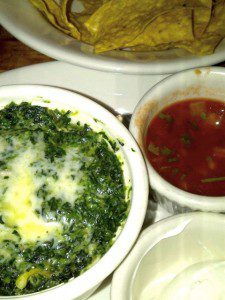 We started with "The Rockefeller" ($14) — a warm artichoke spinach dip. Not the usual   cream cheese laden one, but instead with lots of spinach plus artichokes and Jack, Gruyère and Parmegiana Reggiano cheeses, served warm with salsa, sour cream and tortilla chips. The spinachy dip is fine with only the warm chips. The salsa and sour cream are really redundant. The  glass of Tiara Sauvignon Blanc, from the Limari Valley Chile ($9) went well with that and our other samplings.
The day's special seafood was branzini ($29), served with with vine-ripened red and yellow to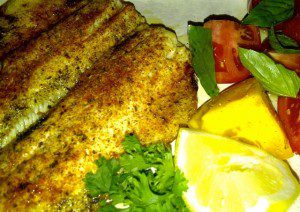 matoes tossed with olive oil and fresh basil leaves. The tomatoes weren't redolent of the season but the Peruvian corn sure was. Its flavor literally danced in my mouth: The corn was sauteed with diced zucchini and a soupcon of jalapeño peppers, then garnished with fresh parsley. The heat of the peppers popped occasionally, just like hot rocks. Amazing flavor.
We also shared a fresh salad of grilled chicken served over local greens,  topped with peanut sauce and dressed lightly with lime vinaigrette. Liked the crunch of both the jicama strips and the non-overpowering corn chips  ($18).
I'd for sure return for more of this freshly prepared food.
– bonnie
Follow @BonnieBOTB

Hillstone
153 East 53 Street
New York, NY 10022
212.888.3828
www.hillstone.com/hillstone