HIGHPOINT Bistro and Bar in Chelsea is a casual place with a friendly menu serving  American food made using fresh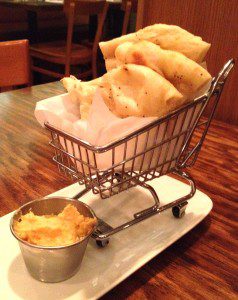 ingredients. I was invited by their publicist to sample their fare.
I began with an amazingly delicious blood orange Old Fashion ($12), made with Makers Mark. I'd return just for that. Highpoint's warm pita comes in a mini supermarket cart along with a garlicky hummus.
For appetizers,  we sampled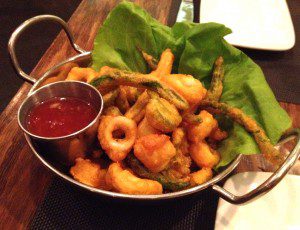 their refreshing light and simple gazpacho ($7), nicely presented with the server pouring the chilled soup into the bowl tableside over shredded carrots and fresh cilantro.  Also tasty are the three mini Kobe corn dogs on  a stick — like at a state fair for easy eating — arrived a top spicy mustard ($8).
Highpoint makes their  lump crab and potato "sandwich" ($12) in a ring mold beginning and ending with hash brown potatoes that become the "crust." Quite tasty, although our serving could have used a few more minutes cooking time to finish cooking the potatoes. It's an attractive presentation  served on a pomerey mustard sauce and a pool of mustard oil along with a watercress salad.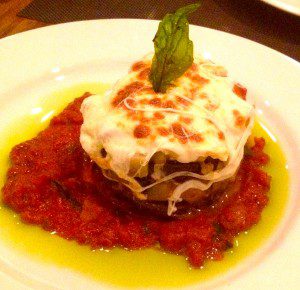 Be sure to try our favorite: the angry calamari with delicate tempura-batter fried tender squid, haricot vert and sliced jalapenos, served with a sweet Asian chili dip ($9).
The entree not to be missed is the individual baked "Eggplant Parm," with grilled eggplant a top (again created in a ring mold-form) roasted peppers, fennel, yellow squash and zucchini sitting fresh tomato sauce. ($18). Think flavorful composed ratatouille.
Another fabulous entree is the cooked-to-perfection whole roasted Branzini atop grilled leeks with a caramelized lemon  ($27) with salad.
Their house made mushroom ravioli ($18) is filled with ricotta, herbs and topped with diced crimini and portabello mushrooms and sauce. Highpoint's meatloaf is "not your mother's," instead it's an individual round portion ($19) topped with a tamarind-flavored BBQ sauce, and served with baby carrots, haricot vert  and more truffled than cheese mac-n-cheese.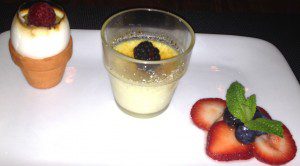 Also worthy are a side of handcut crispy fries (sides $6 each or three for $15) handcut fries with truffle oil ($+2) and the steamed roasted baby bok choy with chile flakes.
We didn't have an ounce of room left for dessert, but the manager instead saying we never had creme brûlée like theirs ($12). He was right: two light versions come attractively presented, a lavender-flavored one i a glass cup, and a traditionally flavored on in an eggshell in a terracotta cup.
As I said it's a casual place with a welcoming friendly and tasty menu that won't break the bank. And they offer al fresco dining. Worth the trip.
HIGHPOINT Bistro and Bar
216 7th Avenue
New York, NY 10011
(646) 410-0120
highpointbb.com