I traveled recently to the Hudson Valley to visit Coach Farm and decided to stop by Henry's at the Farm, where I had been invited to dine. This destination restaurant (previously Henry's Farm to Table) named after the owner's young son — is at Buttermilk Falls Inn + Spa on the 75-acre estate along with a Millstone Farm a 40-acre work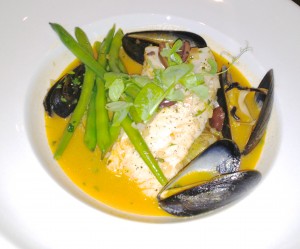 ing organic farm. The farm provides the restaurant with vegetables, berries fruit, herbs, honey and eggs.
I can only comment on the restaurant as they had no one to show me around the facilities.
We started with warm salt-topped brioche-like rolls and crusty slices bread with a fruity olive oil seasoned with garlic, rosemary and red pepper, while I sipped a glass of the 2011 Chenin Blanc/Viognier, Pine Ridge Napa ($9).
With the suggestion of the 22-year old, CIA-trained new chef Michele Stone, we sampled the unusual flatbread with smoked chicken tomato jam, spinach and pickled artichoke hearts on a thin cornmeal-sprinkled crust flavored with an herb oil — all dredged with grated Asiago cheese ($13).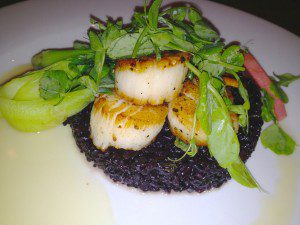 We loved the perfectly balanced flavor of her Caesar salad with house made croutons ($8), but was a little bit disappointed in the towering spinach salad with pistachios, goat cheese and blood oranges in a pomegranate vinaigrette, ($9) as the red and golden beets were sliced so thin that their flavor was lost.
The evening's special was the meal's highlight – perfectly cooked cod in a flavorful tomato-wine broth with plump mussels, local potatoes, fresh haricot vert and kalamata olives.  The pan-seared scallops were served over black sticky rice with a lemon grass ginger beurre blanc ($31) topped with pea sprouts & carrots and fresh baby bok choy.
For dessert we sampled dark chocolate pots de creme topped with toasted coconut, almonds and a brûléed marshmallow ($9) and a "tea party quartet" of housemade ice cream, with mildly flavored green tea, Paris fruit tea, Bangkok spice tea and earl grey tea ($9) ice creams.
– bonnie
Henry's at the Farm
220 North Road
Milton, NY 12547
(845) 795-1500
www.henrysatbuttermilk.com